Vattayappam
Prep Time:
10 min, plus soaking and fermentation time
Cook Time:
25 min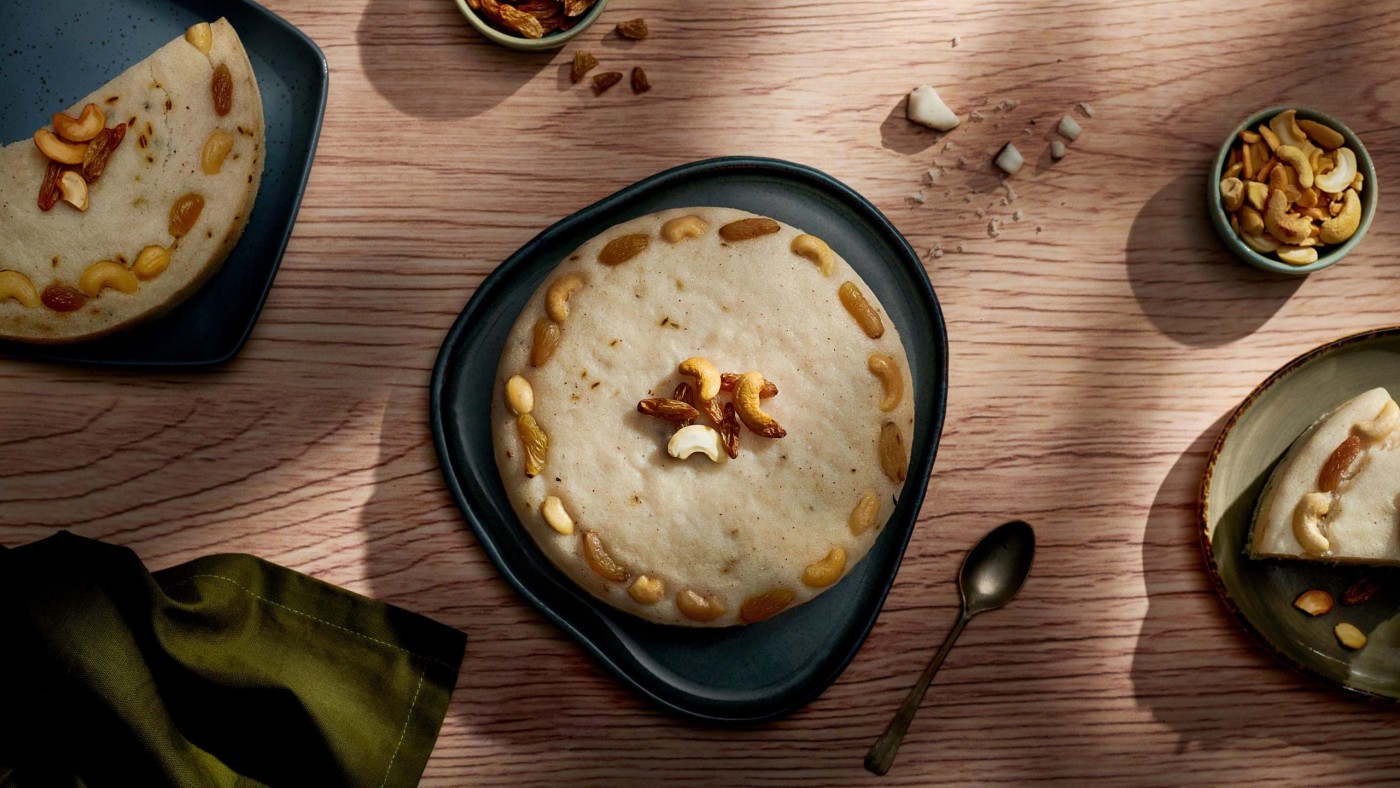 Vattayappam
Prep Time:
10 min, plus soaking and fermentation time
Cook Time:
25 min
About This Recipe
Vattayappam is a light, fluffy fermented cake made during Easter in Kerala. Made with simple ingredients, it is also a popular neighborhood bakery fixture in northern Kerala and along the Malabar coast in cities like Kottayam and Kochi. Vattayappam is gut friendly, and doubles as a nutritious snack during non-festive days.
The Benefits
This fermented cake is gut-friendly, high in fiber, and rich in antioxidants. Coconut adds antibacterial properties. Almonds are rich in vitamin E, critical for healthy bones and blood sugar control, and cashews have healthy fats and carotenoids.
Note: Traditionally, the cake is made using parmal rice. You can use Ponni or Kolam varieties or any short or medium-grain rice.
Equipment: Steamer, 8-inch cake pan
Ingredients
1½ cups (300 g) Parmal rice, soaked for 2 hours
1½ cups (140 g) fresh grated coconut
½ tsp instant yeast
½ tsp salt
3 Tbsp (35 g) coconut sugar
1½ cups (320 ml) water
½ tsp cumin seeds
4-5 cardamom seeds
½ tsp coconut oil for greasing the cake pan
5-10 raisins, almonds, and cashews for garnish
Directions
Step 1

Drain the rice and put it in a grinder or a blender with the coconut, yeast, salt, and sugar. Grind, adding a little water at a time, until you have a slightly runny cake batter consistency. Add the cumin and cardamom seeds and blitz again for 10 seconds. Pour the batter into a large bowl, cover, and rest for 4 hours.

Step 2

Coat the cake pan with coconut oil. Pour the batter into the tin until ¾ full.

Step 3

Fill a large saucepan (or steamer) with water up to 2 inches high and bring the water to a boil. Place a steamer rack, 6-inch cake ring, or fashion a stand using an inverted steel bowl in the saucepan or steamer. Place the cake tin on it. Cover and steam on medium heat for 20 minutes or until a knife inserted into the center of the vattayappam comes out clean. Carefully remove the cake tin using prongs and de-mold it on a plate while it's still warm. Garnish with nuts and dried fruits like almonds, cashews, or raisins for some crunch and bite. Cut and serve.
Substitutions: Use any short or medium-grain raw rice such as Mullan Kyma. If fresh coconut is not available, use desiccated coconut. To hydrate, soak in warm water in a ratio of 2:1 — for every 100 grams of desiccated coconut, add 50 grams of warm water. Soak for 20 minutes, drain and use.
Try It With: A hot cup of chai