Upma Pesarattu
Prep Time:
10 min
Cook Time:
30 min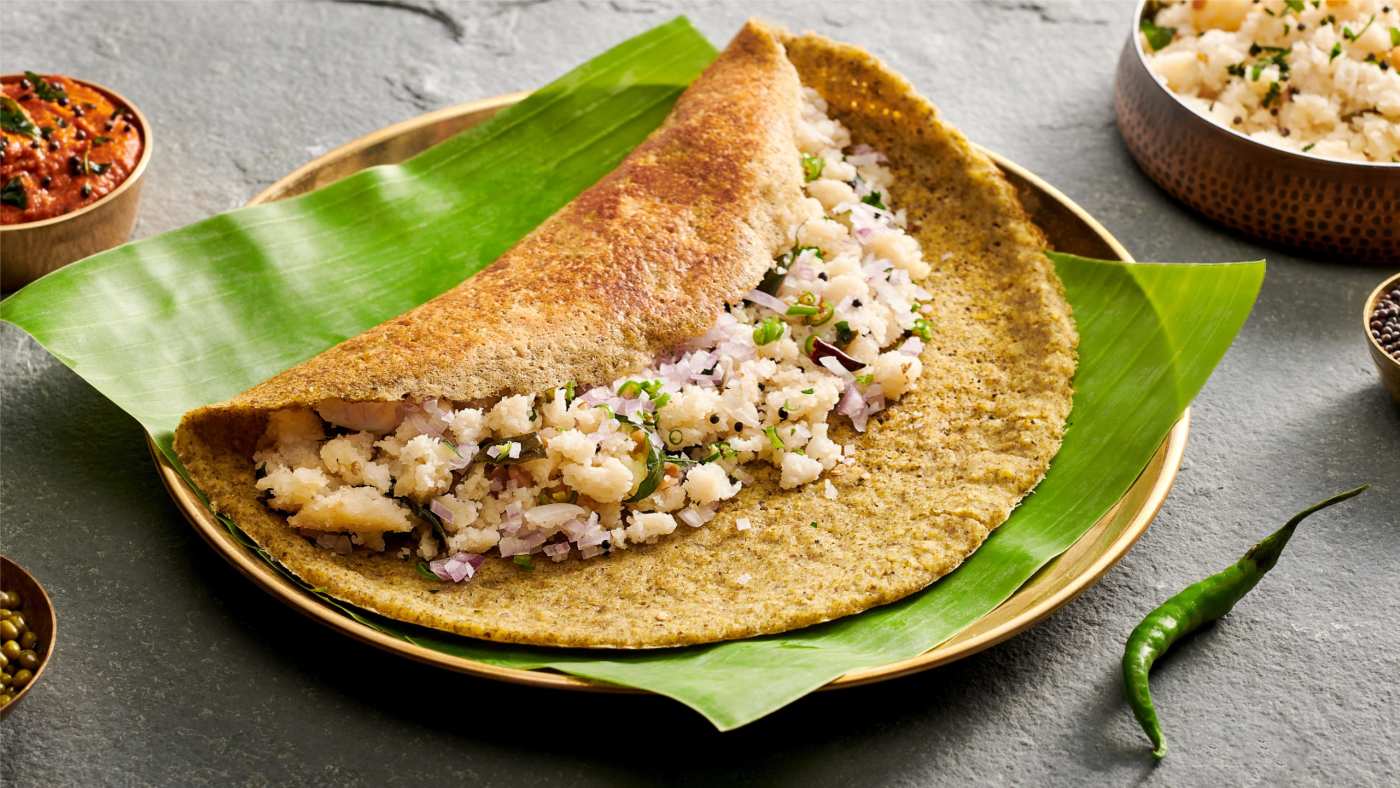 Upma Pesarattu
Prep Time:
10 min
Cook Time:
30 min
About This Recipe
A heritage dish from the coastal districts of Andhra Pradesh in South India, pesarattu gets its name from "pesara," which is green mung dal, and "attu," which means dosa in the Telugu language. This nourishing, protein-rich dosa with an optional stuffing of upma (a semolina-based dish) is a filling, complete meal.
The Benefits
Sprouted mung dal is a good source of plant-based protein and fiber, as well as B, C, and K vitamins. The combination may aid metabolism and improve immunity. The nuts, seeds, herbs, and spices in upma give this carb-heavy, energy-boosting dish greater nutritional complexity and a helping of healthy fats.
Note: For a lighter meal, or if you are short of time, skip the upma and enjoy the pesarattu with a condiment like Milagapodi. Idli rice is short-grained, parboiled rice — use varieties like Ponni or Sonamasuri.
Ingredients
For the Pesarattu
1¼ cup (240 g) mung bean sprouts (whole green gram), soaked for 4 hours
¼ cup (50 g) idli rice, soaked for 4 hours
1 (30 g) small onion, finely chopped
½ tsp fenugreek seeds, soaked for 4 hours
1-inch-long ginger, grated
2 green chiles
2 tsp cumin seeds
100 ml water for blending
Salt for seasoning
1 tsp cold pressed sesame oil or ghee for each pesarattu
For the Upma
1 Tbsp (14 g) ghee
5 cashews
½ tsp black mustard seeds
½ tsp urad dal (skinned, split black lentils)
½ tsp chana dal (split Bengal gram)
1-inch-long ginger, grated
5 to 8 curry leaves
1 (30 g) small onion, finely chopped
1 green chile, finely chopped
½ cup (125 g) fine rava (fine semolina)
½ Tbsp salt
1½ cup (375ml) hot water
Directions
Step 1

To make pesarattu batter: Drain the mung dal and the rice. Add to a blender or food processor along with the onion, fenugreek, ginger, green chiles, and cumin. Add water, a little at a time, to make a thick, gritty batter. Season with salt (about 5 gm) and set aside.

Step 2

To make the upma: Heat ½ Tbsp of ghee in a kadhai, wok, round-bottomed pot, or other shallow vessel. Cook the cashews to a light golden brown, remove with a slotted spoon and drain on a kitchen towel.

Step 3

In the leftover ghee, add mustard seeds, urad dal, and chana dal. When the mustard seeds begin to splutter, add the ginger, curry leaves, onion, and chile and cook for about 2 minutes or until the onions are translucent.

Step 4

Add the rava and cook, stirring continuously, for about 4 minutes or until the rava is fragrant and a light golden brown. Add the cashews and salt. Mix well.

Step 5

Pour in the hot water, stirring vigorously to prevent lumps until the rava soaks up all the water. Cover and let simmer on low heat for 5 minutes, until the mixture begins to separate from the sides of the pot. Add the remaining ghee, stir, and turn off the heat.

Step 6

To make the pesarattu: Heat the cast iron pan or dosa kal. Once hot, add about half a cup of the batter and — using the back of a round ladle or a big spoon — spread the batter in concentric circles with swift circular wrist movements to make an 8-inch round. Drizzle oil around the edges and in the center and cook the pesarattu for 4 to 5 minutes or until the bottom is a nice golden brown.

Step 7

Flip the pesarattu and cook for 2 minutes. Drizzle oil around the edges and cook until the bottom is a warm golden-brown color. Place a spoonful of upma on one side of the pesarattu and flip over the other side to make a semi-circular pocket. Take it off the pan to serve.

Step 8

S prinkle water on the pan to bring down the heat, wipe the surface quickly with a clean cloth or kitchen towel, and swipe with a few more drops of oil. Repeat to make more dosas — you should get about 8 total. Serve hot with allam pachadi (ginger chutney). Store any leftover batter in the fridge in an airtight container for up to 3 days. Bring the batter to room temperature before using.
Try It With: Mint and cilantro chutney or Milagapodi