Rava Dosa
Prep Time:
20 min
Cook Time:
30 min (3 min per dosa)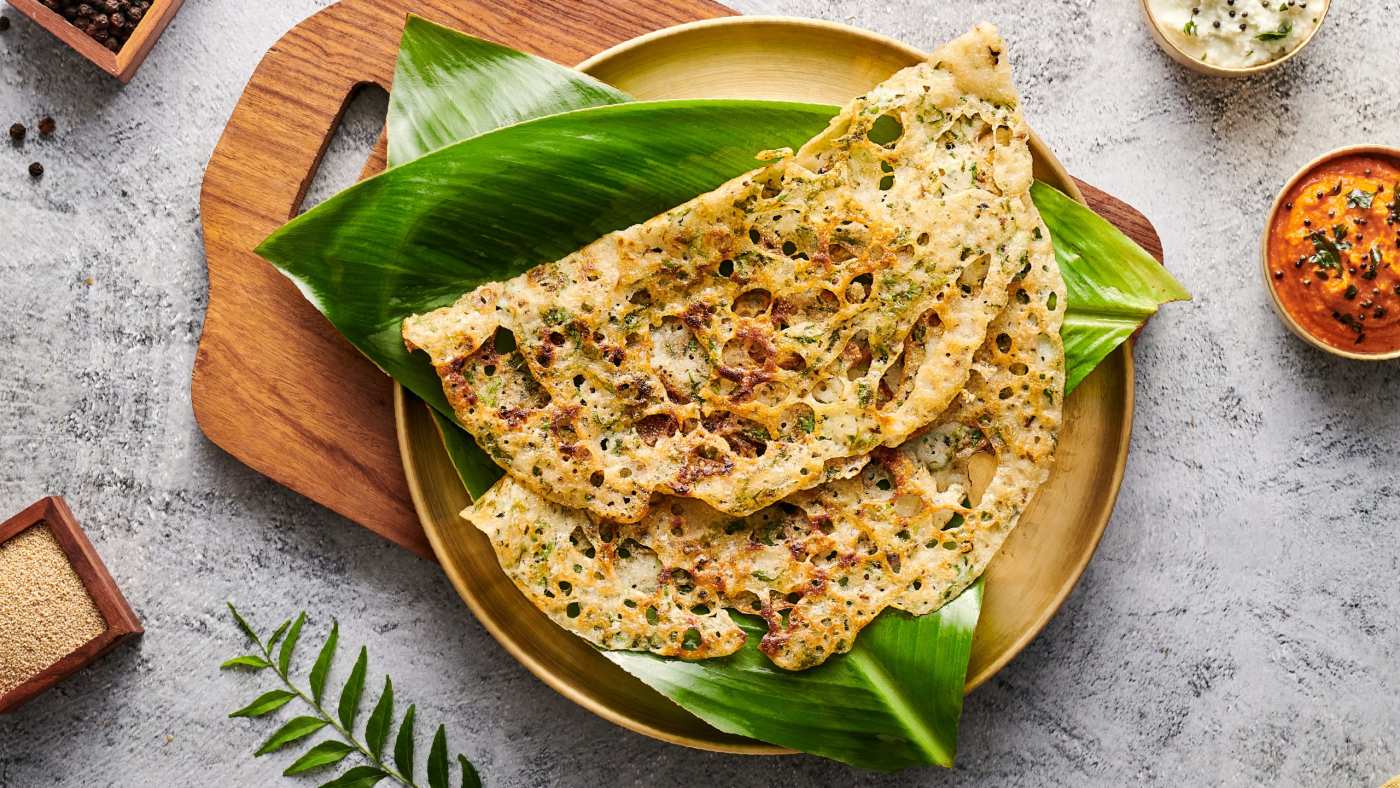 Rava Dosa
Prep Time:
20 min
Cook Time:
30 min (3 min per dosa)
About This Recipe
Cooking is an art. And when I swirl a rava dosa on a steaming hot dosa kal, watching the batter separate into lacy patterns, I feel I am Jackson Pollock. This rava dosa, made with semolina grits batter, is an opportunity to display your wrist skills and create a crepe that is beautiful to behold and incredibly crisp. This kind of popular repast is what South Indians love to call tiffin. But it's not just a party-pleaser; rava dosa has a host of flavorful whole ingredients that make it a nutritious snack.
The Benefits
Semolina or durum wheat grits are high in fiber and protein. Thiamine, a micronutrient in semolina, aids glucose metabolism while the alkaloids in curry leaves may help lower LDL or bad cholesterol. Black pepper and cumin have anti-bacterial compounds, and green chiles are packed with vitamin C, which can help boost immunity. Yogurt adds a gut-friendly element to the dish.
Ingredients
¼ cup (50 g) fine rava (semolina)
¼ cup (50 g) rice flour
1½ Tbsp (15 g) wheat or all-purpose flour
½ Tbsp sour dahi or yogurt
1½ tsp salt
2 cups (240 ml) of water
½ green chile, finely chopped
½-inch-long piece of ginger, finely chopped
½ tsp black peppercorns
½ tsp cumin seeds
5- 6 curry leaves, finely chopped
1 Tbsp (17 g) finely chopped cilantro
¼ tsp asafetida
3 Tbsp cold pressed sesame oil
Halved onion to season the pan
1 (60 g) onion, finely chopped
Directions
Step 1

Combine the semolina, rice flour, wheat flour, yogurt, and salt in a large mixing bowl. Add 1 cup of the water and whisk until you have a smooth batter.

Step 2

Add the chopped green chile, ginger, black pepper, cumin seeds, curry leaves, asafetida, and cilantro. Mix well. Cover and let the batter stand for 20 mins to allow the semolina to absorb the water and fluff up.

Step 3

Add water to the batter, a little at a time, mixing well until you have a batter that is the consistency of buttermilk.

Step 4

Heat a dosa kal or cast-iron pan on medium-high heat for 2 mins until very hot. Sprinkle some water on the surface; it should sizzle and instantly disappear. Add a few drops of oil on the pan and, using the flat side of a halved onion, spread the oil to grease the pan evenly.

Step 5

Pour about 1/2 cup of batter all over the hot pan, starting from the edges and working towards the center. Lower the heat, add some chopped onions, and drizzle a few drops of oil around the edges. Cover the pan and cook the dosa for 4 to 5 minutes on medium heat, until the bottom is crisp and golden-brown. Do not flip. Fold the dosa in half using a spatula. Serve hot.

Step 6

To make more dosas: Sprinkle water to cool the pan slightly, add a few drops of oil, spread with the onion half, and pour batter. Repeat until the batter is gone or you have enough dosas. Store any leftover batter in the fridge in an airtight container for up to 3 days. Bring the batter to room temperature before using.
Try It With: Sambar or chutney