Piña Amla Colada
Prep Time:
20 min
Cook Time:
0 min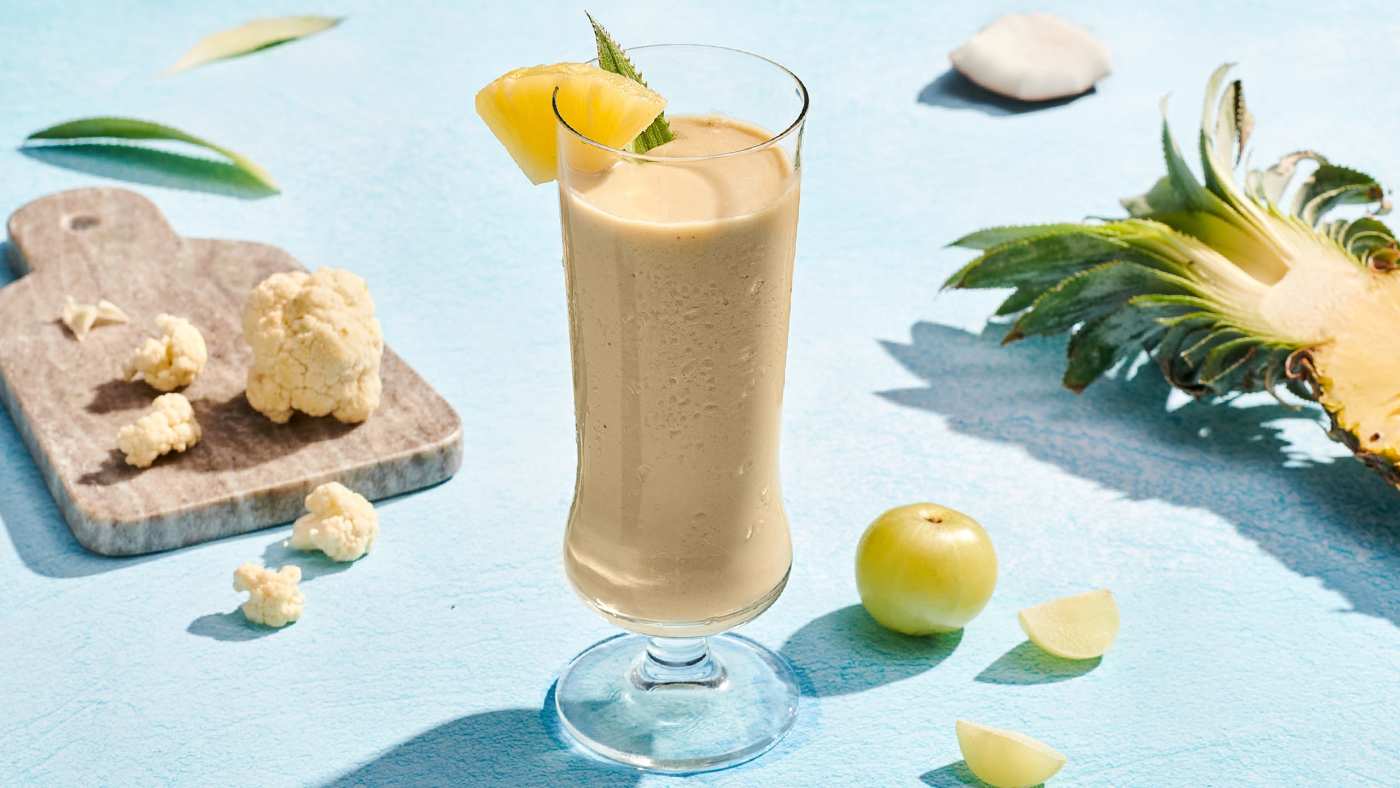 Piña Amla Colada
Prep Time:
20 min
Cook Time:
0 min
About This Recipe
In a lot of our social circles, the pressure to drink can be very intense, even though alcohol can mess with your mood, nerves, and endocrine system over time. When I used to drink regularly, I wanted to stop, but I used to think, "How will I go out, how will I talk to people?" It's great to have an alternative, non-alcoholic drink in hand. Put it in a wine glass and make it a celebration! Or make a cocktail-inspired smoothie, like we're doing today. Fill it with ingredients that are good for you, and garnish festively. This is a celebratory smoothie that is a great social drink for a summer party, but could also just be breakfast.
The Benefits
While alcohol can damage your immune system, leaving your body more vulnerable to illness, this drink is full of immunity-boosting vitamin C (particularly from the pineapple and amla) and healthy fats. Pineapple is also full of manganese, which is essential for your brain and nervous system, as well as good for bone health. Amla, or Indian gooseberry, is an important ingredient in Indian traditional medicine and is supercharged with vitamin C. Vanilla enhances perceived sweetness, so adding it to food usually means you don't have to put as much sugar.
Equipment: Blender

Note: Cauliflower adds a creamy texture to the smoothie, but it's not for everyone. If you use bananas instead, or your pineapple is very sweet, you could skip adding the dates.
Ingredients
2 cups (300 g) chopped pineapple, frozen
2 (50 g) cauliflower florets or 2 peeled bananas, chopped and frozen overnight
1 cup (200 ml) full-fat coconut milk
2 to 3 Tbsp lime juice, from 1 to 2 limes
½ tsp amla powder
1 to 2 dates (optional)
2 drops vanilla extract
Ice (optional)
Cold water (optional)
¼ cup pineapple wedges or dried coconut slices to garnish
Directions
Step 1

Blend the pineapple, cauliflower, coconut milk, lime juice, amla powder, dates (if using), and vanilla for 30 seconds, or until creamy. Add 1 to 3 cubes of ice, if required, for a colder smoothie, especially if your blender runs hot. Add a splash of water or additional coconut milk as needed to help blend.

Step 2

Pour the cold smoothie into a pretty glass and garnish with a pineapple wedge or a slice of dried coconut.
Level Up: This smoothie makes great popsicles: Try adding pineapple pieces and/or dried coconut for texture. Pour into popsicle molds and freeze for at least 8 hours or overnight.