Mixed Vegetable Coconut Stew
Prep Time:
20 min
Cook Time:
18 min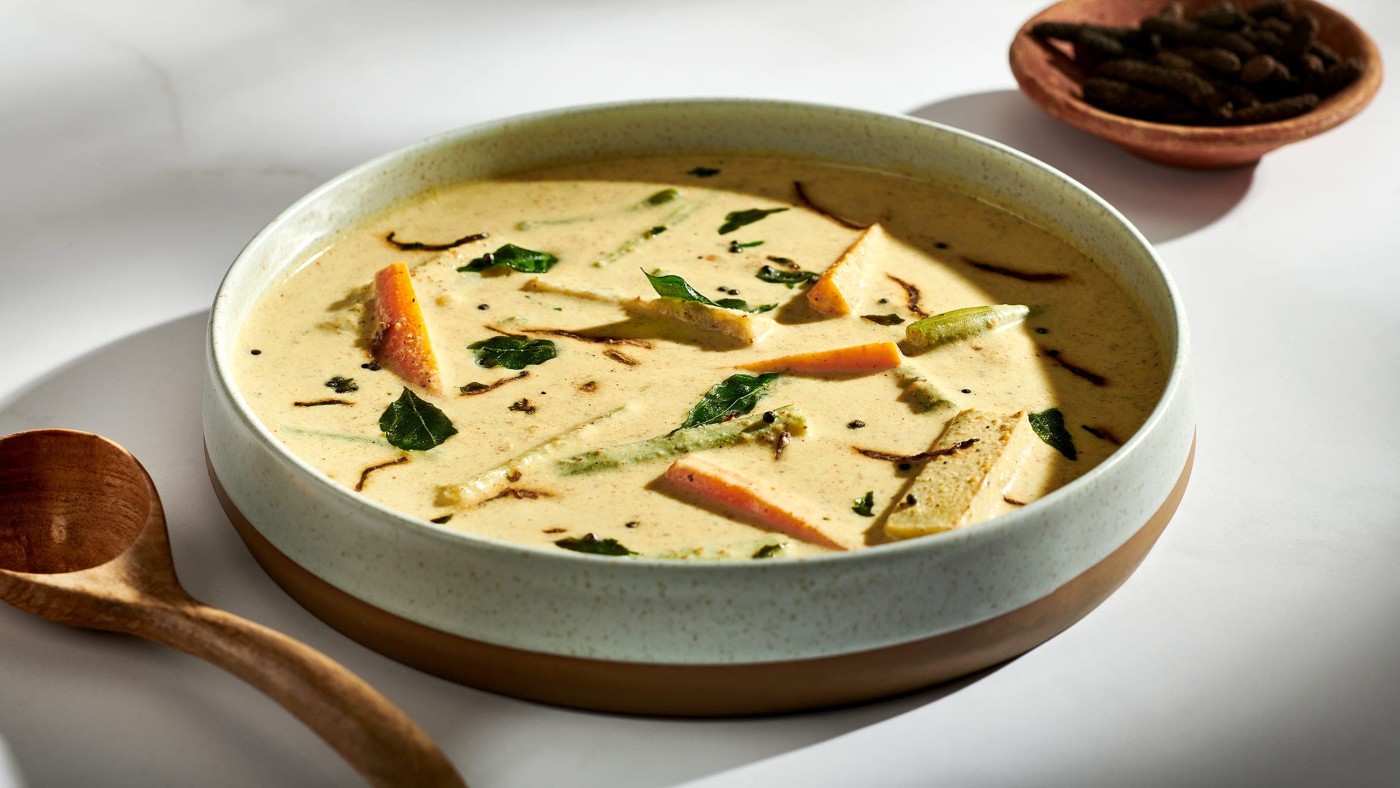 Mixed Vegetable Coconut Stew
Prep Time:
20 min
Cook Time:
18 min
About This Recipe
I am fascinated by the country's southern cuisines. Using spices sparingly but to magical effect, they incorporate either sesame or coconut oil for highly flavorful dishes that are gentle on the gut. A specialty of Kerala, coconut stew, or "ishtu" as it's called locally, makes use of the region's plentiful coconuts and tropical vegetables. Here's my version of the recipe, which cooks up in a jiffy and can be served for breakfast, lunch, or dinner, depending on what you pair it with.
The Benefits
Coconut milk is rich in electrolytes and an important source of MCTs (medium chain triglycerides), a type of healthy saturated fat. It also contains lauric acid, which has antimicrobial and anti-inflammatory properties. Pipli (Indian long pepper) is used to treat gastric disorders in Ayurvedic medicine; like pepper, it's also rich in piperine, which helps the absorption of curcumin from turmeric. Curry leaves are high in antioxidants, which help scavenge free radicals, reducing oxidative stress. They also have antidiabetic benefits. The mixed vegetables in the recipe are a good source of fiber, antioxidants, and micronutrients.
Equipment: Roasting net (optional)
Notes: We've given metric weight for the vegetables, but this is not an exacting recipe — if using cup measures, use 3 to 4 cups of chopped vegetables of your choice.
If using homemade coconut milk, use the first and the second extracts from one coconut to make up the required amount for the recipe.
Ingredients
100 g sweet potato, peeled and chopped
100 g carrots, chopped
100 g green beans, chopped
100 g drumsticks, chopped
100 g unripe, green plantain, peeled and chopped
2 tsp salt
½ tsp turmeric
1 tsp cumin
2 pipli (Indian long pepper, optional)
4 to 6 black peppercorns
1 (12 g) Tbsp chana dal (split chickpeas or Bengal gram)
1-2 green chiles
1½ cups (400 ml can) unsweetened coconut milk
½ tsp salt
Fresh cilantro to garnish
For the Tadka (Tempering)
2 Tbsp (30 ml) cold-pressed coconut oil
8-10 curry leaves
1-inch piece of ginger, cut into thin slivers
1 tsp black mustard seeds
Directions
Step 1

In a stockpot, add sweet potato, carrots, green beans, drumsticks, raw plantain, 1 teaspoon of the salt, and turmeric. Cover with 2 cups of water. Bring to a rolling boil on high heat, then reduce the heat to medium-low. Cover partially and cook for 10 minutes, until the vegetables are fork-tender. Strain the vegetables and reserve the cooking water.

Step 2

In a small pan, dry roast the cumin, pipli (if using), and black peppercorns over medium heat for 2 minutes. Remove the spices from the pan and allow to cool. In the same pan, dry roast the chana dal for 3 to 4 minutes, stirring continuously, until the dal is golden-brown.

Step 3

Place a roasting mesh over the gas burner and lightly char the chiles on the flame, about a minute. Using tongs to turn the chiles for even charring. Skip this step if using an electric stove.

Step 4

In a food processor or blender, grind the roasted cumin, pipli, peppercorns, chana dal, and green chiles to make the masala.

Step 5

In a large stockpot, add the coconut milk, the masala and 1 cup of the reserved cooking water and mix well over medium-low heat. Add the boiled vegetables and remaining 1 tsp salt, and cook for 10 minutes, until the gravy comes together and thickens. The gravy should coat the back of your spoon. Adjust the seasoning and turn off the heat.

Step 6

In a tadka ladle or a small pan, heat the coconut oil and sizzle the curry leaves, ginger, and mustard seeds. Sauté for 30 seconds, then tip this tempering into the gravy. Cover the stock pot and let it sit for 5 minutes. Garnish with freshly chopped cilantro and serve warm.
Substitutions: Eat local and seasonal by subbing with your choice of vegetables, root vegetables, and gourds
Try It With: Steamed matta rice or Malabar parotta