Kundan Kaliya
Prep Time:
12 min, plus 8 hours soaking time
Cook Time:
55 min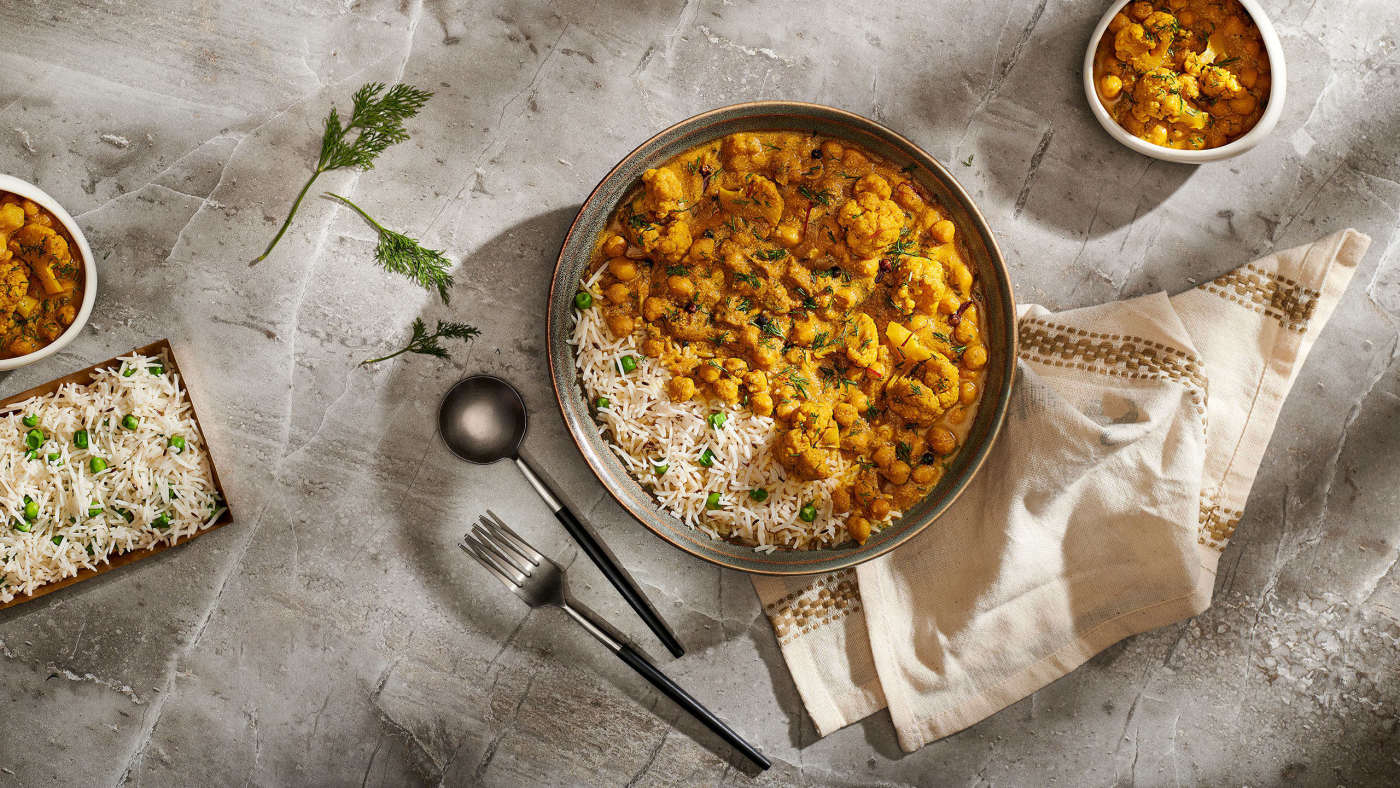 Kundan Kaliya
Prep Time:
12 min, plus 8 hours soaking time
Cook Time:
55 min
About This Recipe
Kaliya, or qaliya, is a classic from my home city of Rampur in North India — it even finds mention in a Mughal-era cookbook. With rich, creamy restaurant-style dishes gaining popularity in India, this lighter, soupier gravy is now largely confined to the annals of history. It is called "kundan" (golden) kaliya because of its saffron- and turmeric-infused color. I grew up eating kaliya with meat, but these days I prefer a simpler and still tasty version with chickpeas and cauliflower. My friends love this recipe because there's no chopping of onions or associated tears!

The Benefits
As "sunshine spices," the trio of saffron, turmeric, and yellow chile are sources of vitamin C and carotene, with anti-inflammatory properties. Studies indicate they may even be mood-enhancing. Adding chickpeas and cauliflower ups the soluble fiber, which is beneficial for healthy gut flora. Choline, a chemical compound in protein-rich foods such as chickpeas, can help brain and nervous system function. Cauliflower is high in glucosinolates and isothiocyanates, organic compounds that are known to slow the growth of cancer cells.
Ingredients
½ cup (100 g) chickpeas, soaked for eight hours or overnight
2 tsp salt
200 g cauliflower florets
Water
3-4 (240 g) medium white or red onions, peeled and quartered
2 Tbsp (25 g) ghee
3 green cardamom pods
½ a blade of mace
2 black cardamom pods
3-inch-long cinnamon stick
1 tsp black peppercorns, lightly crushed
3 to 4 cloves
4 tsp (20 g) ginger-garlic water (see Level Up) or paste
½ cup (100 g) dahi or yogurt, whisked
1 tsp turmeric powder
1 tsp red chili powder
1 tsp yellow chili powder (optional)
8 to 10 saffron strands, soaked in 1 tsp warm milk
1 nimbu (Indian lime) or lemon for juice
Dill or mint leaves to garnish
Directions
Step 1

Drain the soaked chickpeas and cook in an instant pot or a pressure cooker with 1 tsp salt and enough water to cover. If using a pressure cooker, seal the lid and bring the pot to full pressure until the first whistle releases steam. Then turn the heat to medium-low and cook for 10-15 minutes or three whistles. Allow the pressure to release completely before taking off the lid. Scoop out the chickpeas into a bowl with a ladle or a slotted spoon and reserve the liquid. Omit this step if using canned chickpeas.

Step 2

Add the cauliflower florets to the reserved chickpea water and cook uncovered over medium heat for 5 minutes. (If using canned chickpeas, boil the cauliflower in plain water or vegetable stock). Strain and reserve the water for later to thin the gravy.

Step 3

Add the onions to food processor or blender and grind to a coarse paste.

Step 4

Heat the ghee in a heavy bottom kadhai or a skillet. Add the green cardamom, mace, black cardamom, cinnamon, peppercorns, and cloves. Sizzle the whole spices on medium heat for about a minute or until aromatic.

Step 5

Add the ginger-garlic juice and sauté for a minute while stirring continuously, until the raw smells of ginger and garlic change to a rich alliaceous aroma. Add the onion paste, and the remaining 1 tsp salt, and cook for 7 to 8 minutes on medium-low heat while occasionally stirring, till the onion paste turns a light caramel color.

Step 6

Reduce the heat to low and stir in the yogurt. Simmer for 5 minutes, stirring continuously.

Step 7

Add the turmeric and the red and yellow (if using) chili powder. Stir and cook on medium heat for a minute, then add 2 cups of the reserved water. Cover and simmer for 10 minutes.

Step 8

Add the chickpeas and cauliflower, along with the saffron-infused milk. Adjust the seasoning and simmer for 10 minutes to finish. Ladle the kundan kaliya into a serving bowl, squeeze some lime juice, and garnish with dill or fresh mint before serving warm.
Level Up: Historically, royal Lucknowi kitchens were famous for a culinary practice called "nafaasat," which means refinement. Cooks used each ingredient with finesse. For instance, they preferred using water infused with freshly ground ginger and garlic instead of using a ground form to avoid any stray bits of ginger fibers in the food. To make your own ginger-garlic water, blitz equal parts ginger and garlic with water in a ratio of 1:2 until liquefied. Strain and refrigerate in a glass jar for up to two weeks.
Try It With: Rice or dal pulao (lentil and rice pilaf).