Kathal Bhuna Masala
Prep Time:
15 min
Cook Time:
40 min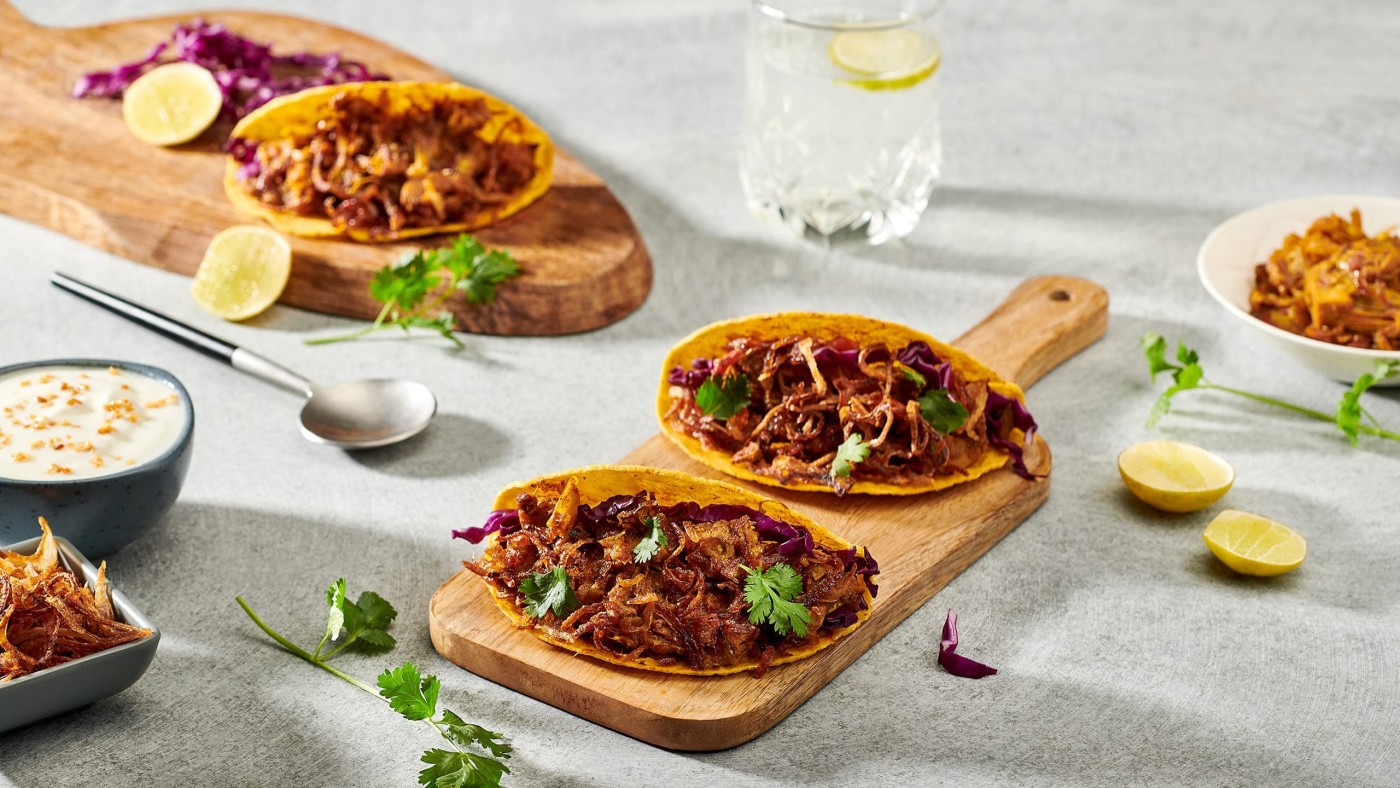 Kathal Bhuna Masala
Prep Time:
15 min
Cook Time:
40 min
About This Recipe
This kathal (jackfruit) dish in tomato-onion gravy is a celebration of summer. At the season's onset in India, jackfruit trees sprout fruit as if decorated with dozens of lime green, egg-shaped lanterns. Half of this harvest is plucked before maturity and cooked as a vegetable. These unripe jackfruit bulbs have a unique, fibrous texture that recalls meat; in fact, it's often enjoyed as a substitute for pork, beef, or lamb. A vibrant bhuna masala brings out the best of kathal's flavors. Bhuna is an Indian technique of softening flavorful ingredients in fat until most of the water is evaporated; this basic version incorporates garlic, ginger, onions, tomatoes, and fragrant spices, all sauteed in ghee. This super versatile base lends itself to various vegetables, legumes, meat, or fish. I prefer a clay pot for this dish — it allows for even cooking, seals flavors better, and adds a unique earthy aroma. You can also use a kadhai or a skillet.

The Benefits
Bhuna masala is full of anti-inflammatory agents. Besides anti-inflammatory and antiviral properties, garlic, ginger, onion, and tomatoes work synergistically to boost immunity. Tender jackfruit is rich in potassium, magnesium, copper, vitamin C, and antioxidants such as carotenoids and flavanones. Studies also indicate that jackfruit has potential blood sugar-reducing benefits.
Note: In the interest of time, the recipe calls for pressure cooking the jackfruit cubes. If you don't use one, boil the jackfruit in a stockpot until tender.
Ingredients
For the Bhuna Masala
1 (14 g) Tbsp ghee
2-3 dried bay leaves
3 badi elaichi (black cardamom pods)
2-inch-long cinnamon stick or cassia
2 Tbsp (40 g) ginger-garlic paste
4 (240 g) medium red onion, cut into thin slices
1 tsp salt, plus more to adjust the seasoning
4-5 (300 g) medium ripe tomatoes, roughly chopped
2-3 green chiles, slit
2 tsp Kashmiri red chile powder
2 tsp ground cumin
2 tsp crushed coriander seeds
1 tsp garam masala powder
¼ cup of warm water
For the Jackfruit
2 cups (500 g) raw jackfruit, cut into 2-inch cubes
1 (14 g) Tbsp ghee
2 cups of water
1 tsp salt
For the Garnish
3 Tbsp (10 g) roughly chopped fresh cilantro
Directions
Step 1

To make the gravy: In a large clay pot or a skillet, heat the ghee and sizzle the whole spices — bay leaves, black cardamom, and cinnamon — for a minute. Add the ginger-garlic paste and sauté for a minute, until the raw and pungent notes transform into a rich, alliaceous aroma.

Step 2

Add the onions and 1/2 tsp salt (this helps draw out moisture and speed up the cooking). Sweat the onions on medium-low heat for about 5 minutes, until translucent. Add the tomatoes, and green chiles and mix well. Cover partially and cook for 7 to 8 minutes, or until the tomatoes soften.

Step 3

To finish the gravy, add the red chile powder, ground cumin, coriander seeds, garam masala and 1/2 tsp salt. Add warm water to help emulsify the spices. Give the contents a good stir, running the ladle across the bottom of the pan to dislodge any sticky bits, and simmer uncovered for 5 minutes. Stir occasionally. The bhuna masala is ready.

Step 4

To prep the jackfruit: While the gravy simmers, heat the ghee on a grill pan or griddle. Sear the jackfruit cubes on medium-high heat for about 3 minutes until golden brown on both sides.

Step 5

To finish cooking the jackfruit cubes, add them to a pressure cooker with water and salt. Pressure-cook on high heat until the first whistle, then lower the heat and cook for another 5 minutes before turning off the heat. Wait for 5 minutes for the pressure to subside before you open the pressure cooker. Strain the jackfruit, and reserve 1 cup of the liquid.

Step 6

Add the jackfruit to the bhuna masala, along with a splash of the reserved liquid. Cook on medium-low heat for about 5 to 7 minutes to assimilate the flavors. Add more of the reserved water to thin the gravy to your desired consistency. Adjust the seasoning, cook for another 2 minutes, and turn off the heat. Garnish with fresh cilantro and serve warm.
Substitutions: Traditionally, bhuna masala is made with chicken or lamb meat. Vegetarian substitutes can include sautéed cauliflower, chayote, or broccoli.
Try It With: Serve with bread or rice and a condiment like pickled onions. Jackfruit tacos make a great party food: cook the gravy to a semi-dry version and use it as a filling.