Gnocchi with Fall Pesto
Prep Time:
1 hour 20 min
Cook Time:
5 min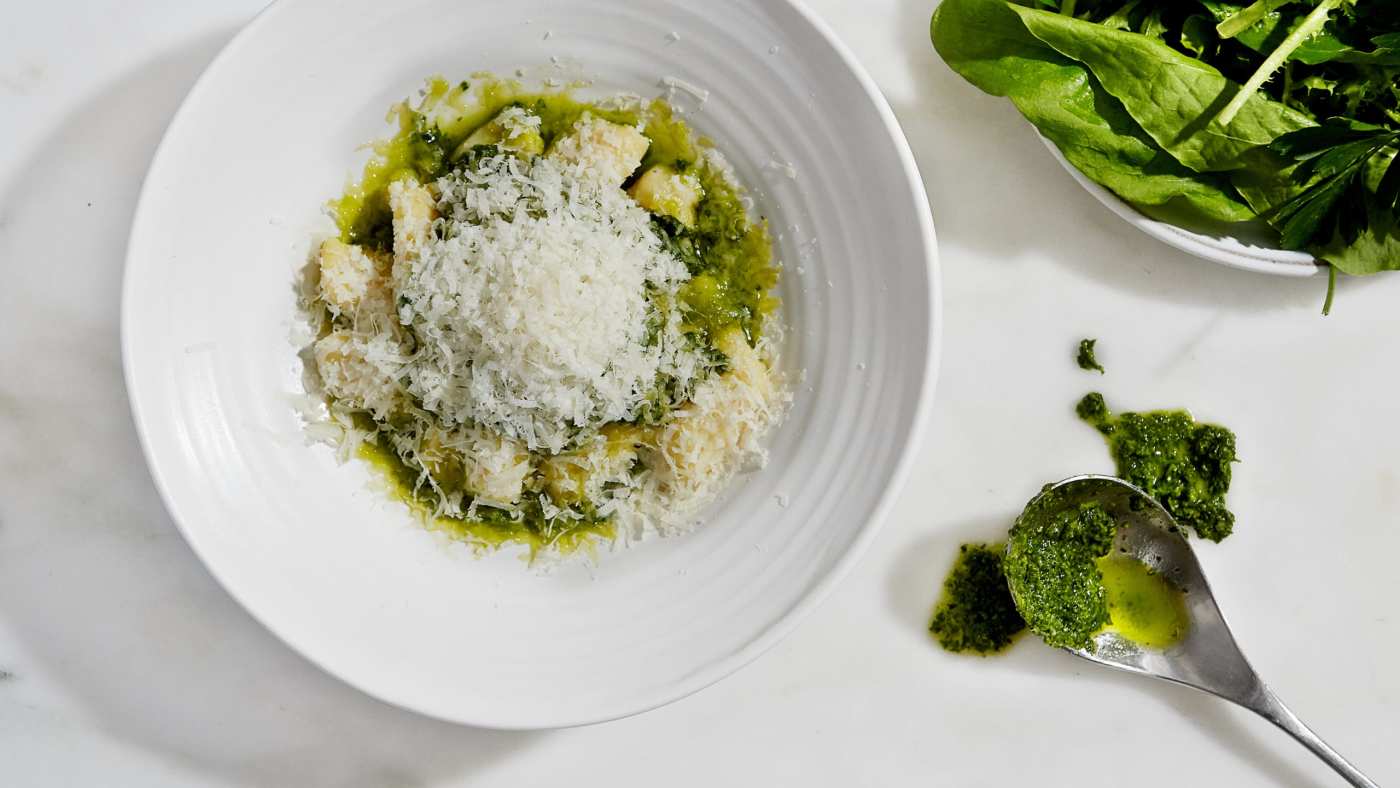 Gnocchi with Fall Pesto
Prep Time:
1 hour 20 min
Cook Time:
5 min
About This Recipe
Homemade potato gnocchi starts, not surprisingly, with the potato. But not just any potato. Use a russet or similarly starchy potato. Waxy potatoes won't work. This fall pesto doesn't have any strict rules about what herbs to use. Get herbs from your garden, the farmers market, or the grocery store. Pesto gives you the freedom to use more than just basil.
The Benefits
Diversity is key when it comes to your diet, and a pesto made from many different herbs and greens provides a symphony of beneficial phytonutrients that no supplement could ever hope to match.
Note: For the Fall Pesto, the ingredients are suggestions, and the measurements are approximate. Use what you have, in the proportions you like, and use the amount of oil to obtain the desired consistency.
Ingredients
Gnocchi
1 lb (450 g) russet potatoes
1 egg yolk
1/4 tsp nutmeg
1/4 cup (30 g) all-purpose flour
Fall Pesto
6 to 8 cups (114 g) fresh seasonal greens like chicory, parsley, sorrel, fennel and/or celery leaf, sage, oregano, and mint, washed and spun dry
4 garlic cloves
1/4 cup (10 g) parmesan, plus more for finishing
1/4 cup (35 g) toasted pine nuts
1/2 cup (120 ml) olive oil
1/2 tsp salt
Freshly ground black pepper
Directions
Step 1

Make the gnocchi: Heat the oven to 350˚F/180˚C. Bake the potatoes until fully tender, about an hour, then remove from the oven, cut in half lengthwise, and let cool for about 15 minutes (you can score the flesh to open it up a bit and speed the cooling). When the potato is cool enough to work with but still warm, scoop the potato flesh into a ricer and push it into a large bowl.

Step 2

Add the egg yolk and nutmeg and mix well, then add the flour and fold — as if you were incorporating egg whites. Knead the dough briefly to make sure it's fully combined; an even yellow color will show you that the egg is evenly incorporated. The dough should hold together well, and should not be sticky. Knead in a bit more flour if the dough is too wet to work with.

Step 3

Pat the dough into a rectangle about 3/4-inch thick on your work surface and cut it into 1-inch strips. Roll each strip on a lightly floured surface to make a snake, then cut the snake into roughly 1-inch lengths. Roll each one along a gnocchi paddle or fork to make ridges, if you like.

Step 4

Make the pesto: Put all the ingredients for the pesto in a food processor and blend to make a smooth sauce. Taste for seasoning and set aside.

Step 5

Boil the gnocchi in salted water until they rise to the surface, 1 or 2 minutes. While they cook, add a spoon of pesto to each plate. Scoop the gnocchi out of the water with a slotted spoon or spider and put them on each plate. Top the gnocchi with more pesto, grate on some parm, and serve.
Substitutions: Just about any combination of seasonal greens and herbs will work in the pesto
Zero Waste: Brush the potato skins with a little melted butter and salt and put them in a 350˚ oven until they get crisp