Salt-Roasted Beet Salad with Greens
Prep Time:
15 min
Cook Time:
1 hour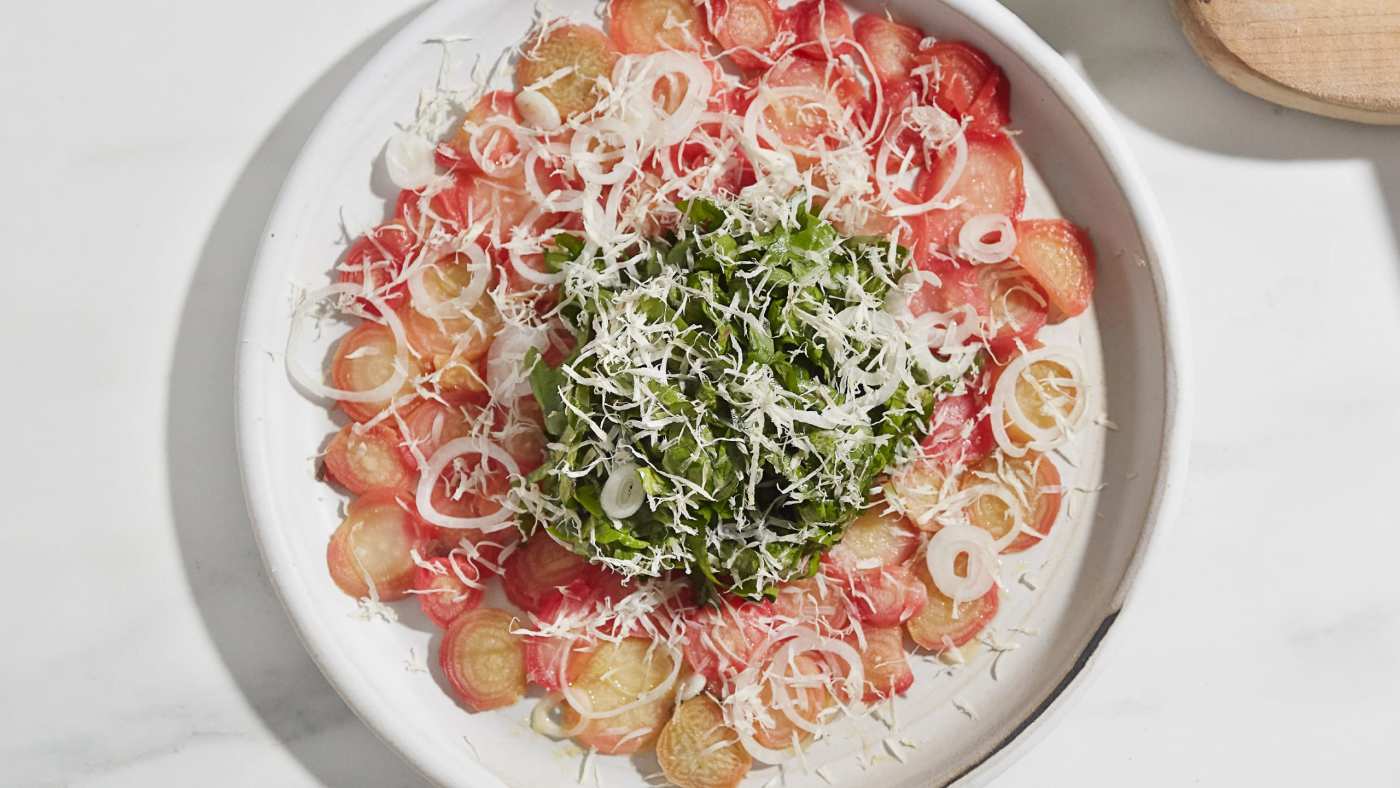 Salt-Roasted Beet Salad with Greens
Prep Time:
15 min
Cook Time:
1 hour
About This Recipe
This approach celebrates root vegetables that we sometimes have too many of, languishing in the back of the crisper drawer. Salt-roasting like this cooks beets in the most perfect way, where they steam in their own skins and retain all their flavor and color. The technique will work beautifully with other roots such as potatoes or turnips — anything that has a skin.
The Benefits
Beets are a rich source of folate (vitamin B9), which helps maintain healthy blood vessels. Additionally, studies have shown that beets and their juice can also treat those with elevated blood pressure. Fiber-rich beets also promote the development of beneficial gut bacteria and help detoxify the liver. For athletes looking for a performance boost, the nitrates in beets can lend a hand.
Note: Even though this roasting method calls for a lot of salt, don't worry — you can save and reuse it five or more times.
Ingredients
Coarse salt for roasting (you'll need several cups to cover the beets)
8 golf ball-sized Chioggia (candy cane) beets, greens and roots removed
2 cups (75 g) thinly sliced beet greens (de-stemmed if needed)
1/2 cup (120 ml) extra virgin olive oil, divided
1/4 cup (60 ml) lemon juice, divided
Salt to taste
2 pearl onions, thinly sliced (about 1/4 cup [25 g])
Knob of horseradish, peeled
Directions
Step 1

Heat the oven to 400˚F/200˚C. In a baking dish just large enough to hold all the beets in a single layer without them touching, pour a layer of salt about ½" deep. Arrange the beets in the dish, pushing them gently into the salt, and cover them with more salt. You want them fully buried. Cover the pan with foil.

Step 2

Roast the beets until easily pierced with a fork, about 1 hour, then remove them from the salt and let them cool until you can slip the skins off, exposing the brilliant jewels within. Slice them thinly, preferably with a mandolin (but a sharp knife works). Divide the sliced beets between 4 plates and set aside.

Step 3

Toss the beet greens in a large bowl with half of the oil and half of the lemon juice. Add salt to taste. If the greens are tough, massage them a bit. Place the greens in the center of each plate with the sliced beets, top with the pearl onions, and drizzle on the remaining 1/4 cup (60 ml) of the oil and 2 Tbsp (30 ml) lemon juice. Grate the horseradish on top. Serve immediately.