DIALOGUE: Vijay Kumar
Article
6 mins
Healthy Eating
The chef of Michelin-starred restaurant Semma talks about putting authentic South Indian dishes on the global map, cooking as therapy, and the healing wisdom of food.
It's been an extraordinary story of struggle, perseverance, and success for Vijay Kumar. Semma, the restaurant he helms in New York City's West Village, won a Michelin star in the fall of 2022 — the first exclusively South Indian restaurant to win that honor. Semma's homegrown dishes have delighted newcomers to its cuisines, as well as reviving memories of long-lost flavors for those far from home.
Kumar grew up in a farming village in rural Arasampatti, in the South Indian state of Tamil Nadu. Unable to fund his studies at an engineering college, Kumar put himself through culinary school and moved to the city of Chennai. He found his way to the United States via working in restaurants at Taj Connemara in Chennai and Dosa in San Francisco.
At Semma, Kumar joined Roni Mazumdar and Chintan Pandya of Unapologetic Foods to create a menu that sings in tune with the red earth, emerald paddy fields, and swaying coconut palms of the Tamil heartland. The food is an homage to his childhood of fishing and foraging. Chennai's dazzling kitsch also finds its way into the restaurant's name — Semma is slang for awesome — and the cocktails are named after Tamil movie stars.
Above all, Semma puts a unique spotlight on the rustic flavors of South India, which have often been underrepresented or misrepresented in the U.S. For Kumar, food is the healing taste of home. The Michelin star validates his culinary motto.
Roundglass Food: What is an aspect of wellness wisdom associated with Tamil cooking that is important to you?
Vijay Kumar: In India, especially in its villages, it's impossible to escape people talking about the medicinal value of food and its healing properties. The wellness values of turmeric, black pepper, or ginger, and the efficacy of Ayurveda or Siddha medicine in Tamil Nadu, are part of everyday conversations. In the village where I grew up, food was considered medicine. We were healed by grandmother's wellness wisdom or "paati vaidhyam" in Tamil. She would make us kids drink up herbal decoctions made of nightshade herbs, and feed us fiery pepper and cumin rasams (soups) to clear our sinuses, and so on.
RG: As a chef in a high-pressure restaurant business, what elevates your day?
VK: The guest feedback, without a doubt. I have diners telling me or leaving notes that the food reminded them of the cooking of their grandmothers or mothers. They often tear up saying they never thought that a day would come when village cooking and rustic food from South India would find its way into the menu of an upscale restaurant in New York. It is heart-warming and I am deeply moved by this kind of feedback. For sure, this really elevates my day.
RG: How would you tell others to find their focus while cooking?
VK: Make cooking your passion and find people who share the same view. I grew up admiring the way my mother and grandmother went about putting their hearts into cooking and serving food for the family.
RG: What is your cooking mantra?
VK: Open your heart to kindness, gratitude, and love. Cooking is therapy for me. I am happiest whilst cooking, and when I get to share food and the stories about food with people.
RG: How can you turn your cooking into a tool of positivity?
VK: It's been a wholly positive experience to introduce authentic South Indian food to the western world here. I do see for myself that it makes many people happy. The mission of the founders of Unapologetic Foods was to expose people in New York to authentic flavors from real home cooks in South India, and not a version made to fit an American palate. There is a positive cultural message in our menus.
RG: Would you share an indelible farm-to-table food memory?
VK: I loved the time when my mother would take us kids to the farmer's market in the village. I always felt excited to witness the bustling marketplace and all the farmers gather with their produce. You can forge an intimate connection to the earth and seasons at a farm, eating fresh vegetables all the time. I remember the added joy when we picked my favorite okra or moringa followed by animated plans of how to cook them for lunch. The two dishes that pay homage to this memory at Semma are uzhavar santhai poriyal (farmers market stir-fried vegetables), and vegetable uttappam.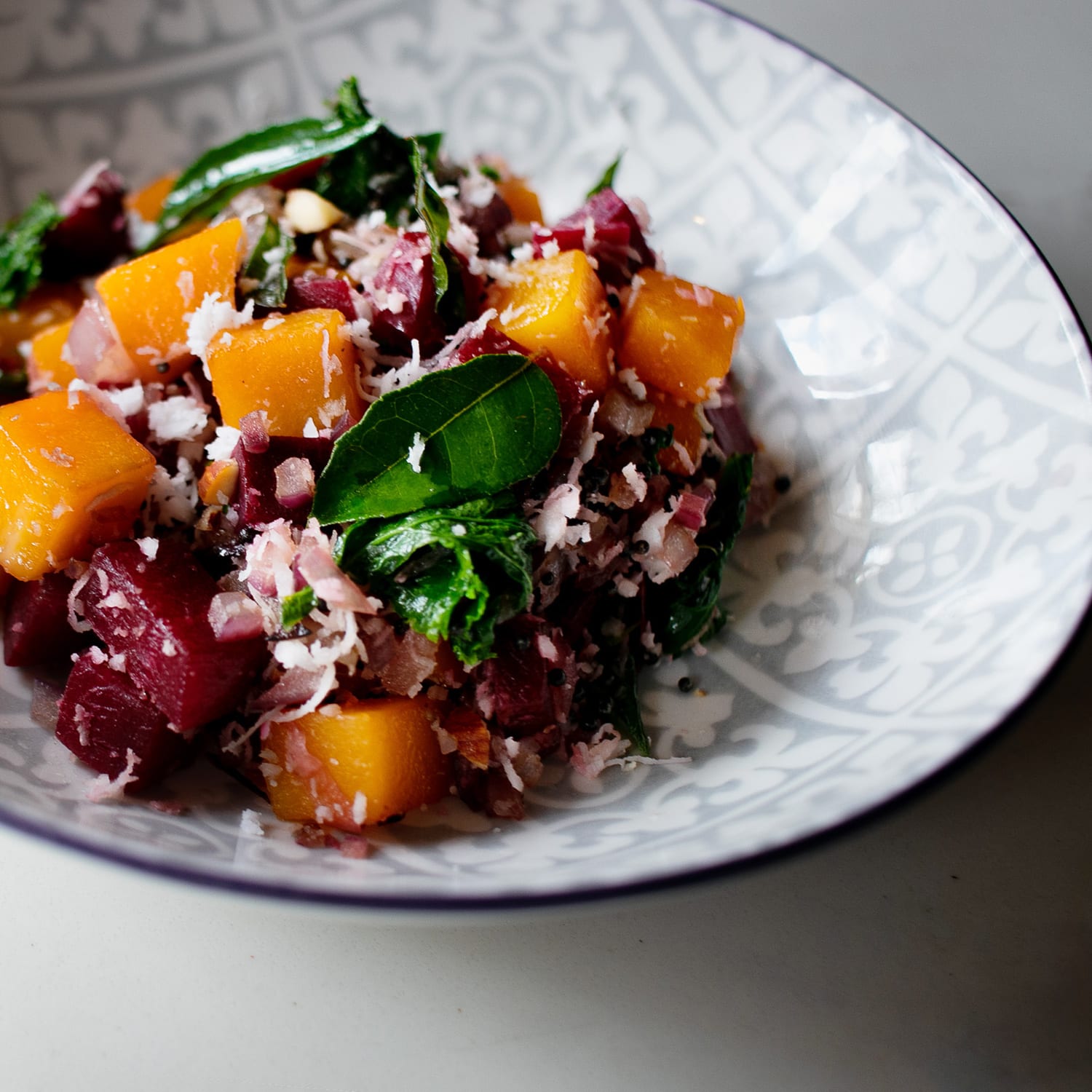 RG: How do you ensure nutrition in the dishes you serve in the restaurant?
VK: At Semma, we make sure that multiple vegetarian and seasonal vegetables are incorporated in the menu. Fermented foods like idli and dosa offer the right kind of nutrition, and the accompaniments like sambar and chutney have high amounts of fiber. South Indian food tends to veer towards wellbeing and healing ingredients naturally.
RG: As a chef, what's a mindful practice you recommend to your kitchen staff?
VK: I always tell my team to be thankful that we are healthy and have a job, especially during trying times like the world has seen recently. I focus on gratitude and say always use the best ingredients and not compromise on quality. And to cook with our heart.
RG: What is your favorite ingredient?
VK: Karuvepillai or curry leaves! I try to add it in each one of my dishes if I can. I love its distinct aroma and it offers lots of health benefits. Curry leaf is versatile. I make curry leaf oil or chutney and pop it in while tempering for a burst of flavor.
RG: Semma won a Michelin star. Whom would you want to invite for dinner now?
VK: Kathammal, my mother! She doesn't like to travel! But I so wish to bring my mother over to New York and show how I celebrate her cooking at Semma. Most of the food on the menu is what I have learnt from her. I am sure she'll be proud.
RG: What is a heritage cookware item from your kitchen that you cannot part with?
VK: Kal ural or the traditional south Indian stone mortar and pestle. It offers a different texture to spices when you grind them, and the flavors are deeper. A machine grinding spices and chutneys cannot match this.
RG: If there were one simple, nourishing dish you could encourage the whole world to make, what would it be?
VK: Idli with sambar. It's healthy and remains my all-time favorite.
DIALOGUE is an ongoing series of conversations about food & wellbeing.
The Benefits
Treat food as medicine
Connect with nature through farm-to-table practices
Appreciate tradition through heritage cuisine