Pappardelle with Wild Mushroom
Prep Time:
55 min
Cook Time:
10 min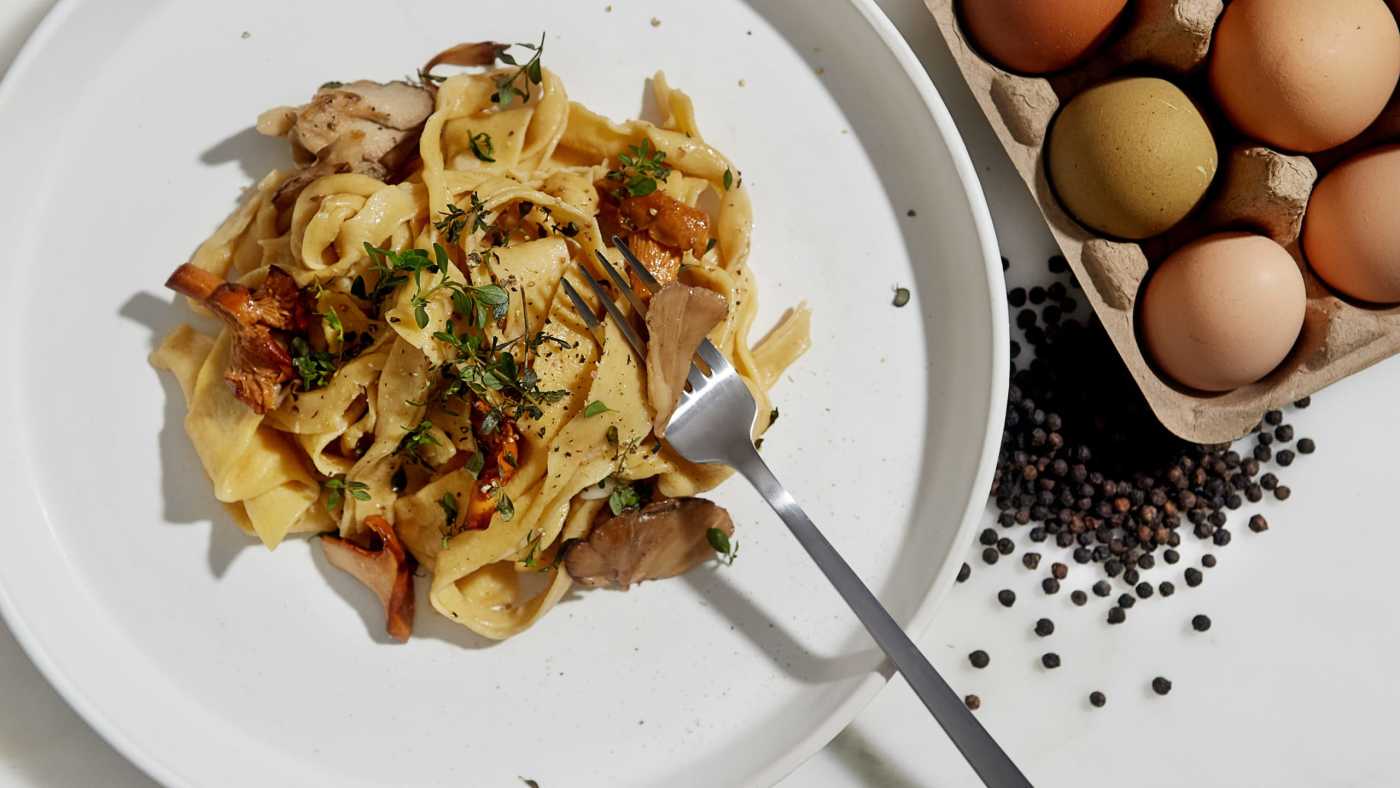 Pappardelle with Wild Mushroom
Prep Time:
55 min
Cook Time:
10 min
About This Recipe
Using some whole-grain flour for this pasta adds a lot of flavor, texture, and nutrition to homemade pasta. "White whole wheat" or "half-white" flour is ground with the germ intact, so it tastes like whole wheat but performs like white. The nutty flavor and bouncy texture are a perfect match for the earthiness of wild mushrooms.
The Benefits
Whole-grain flour is full of fiber and protein, and mushrooms (depending on the types you use) can have powerful health benefits, including mood-boosting and anti-cancer properties.
Equipment: Digital scale to weigh your eggs, bench scraper
Ingredients
Pasta
3 eggs
Water
1½ cups plus 2 Tbsp (200 g) all-purpose flour
3/4 cup plus 1 Tbsp (100 g) white whole wheat flour
1 tsp salt
Wild Mushroom Sauce
2 Tbsp (30 ml) olive oil
1 lb (450 g) wild mushrooms, cut into pieces if needed
2 garlic cloves, sliced
6 sprigs thyme, stripped off stems
Splash of white wine, vegetable stock, or water
1 Tbsp (14 g) butter
1 Tbsp (2 g) minced parsley or chives
Directions
Step 1

Make the pasta: Crack the eggs into a bowl and weigh them. Add enough water to bring the total to 185 g, then whisk to combine. In a bowl, mix the flours, salt thoroughly, and dump into a mound on the counter. Create a well in the center like the crater of a volcano. Pour the eggs into the well and begin whisking with a fork, slowly incorporating the flour as you work in widening circles. Use a bench scraper to gather up the edges and fold the dough over itself several times to bring it together. Knead gently for a minute or two, until it starts to get less sticky, then wrap it tightly and let it rest for an hour.

Step 2

Unwrap the dough and knead it for 5 minutes; it should not stick to the counter and therefore should not require more than a bare dusting of flour. Using a rolling pin, begin to roll out a circle, rolling away from yourself 45˚ to your left, then straight ahead, then 45˚ to your right, then rotating the circle 90˚ and continuing. Keep doing this, always rotating the dough in the same direction, until you have a thin sheet (about 1/16" thick).

Step 3

Let the dough rest, covered, for a few minutes, then flour it, fold it and cut it into 1-inch-wide strips. Unroll them, divide into portions, toss them lightly in flour, form nests, and set aside.

Step 4

Make the mushroom sauce: Heat the olive oil in a skillet or sauté pan until hot and shimmering. Sauté the mushrooms until browned (they'll shed some liquid, which will evaporate before they start to brown), 3 to 5 minutes; after a couple of minutes of cooking, season with salt and pepper to taste. Add the garlic and thyme, stir, and then deglaze the pan with a splash of white wine, water, or stock. Add the butter and toss, coating the mushrooms in the emulsion. Keep warm until the pasta is ready.

Step 5

Add the pasta to boiling salted water and cook for a minute or two — when the noodles float, they're done. Turn the heat back on under the mushrooms. Scoop out the pasta with a spider and add it to the mushroom pan, tossing well, and add a ladle of the starchy pasta water to create a sauce. Taste for seasoning, toss in the herbs, and serve.
Substitutions: Other whole-grain flours, like spelt, can be used in place of the white whole wheat. Just about any common or cultivated mushrooms can work as well
Try It With: Cicoria Ripassata, Fennel & Orange Salad, carciofi alla romana
Zero Waste: Mushroom scraps and trimmings can be used in soups, stews, or go in the stock pot