Tomato Soup with Spanish Lentils
Prep Time:
15 min
Cook Time:
1½ hours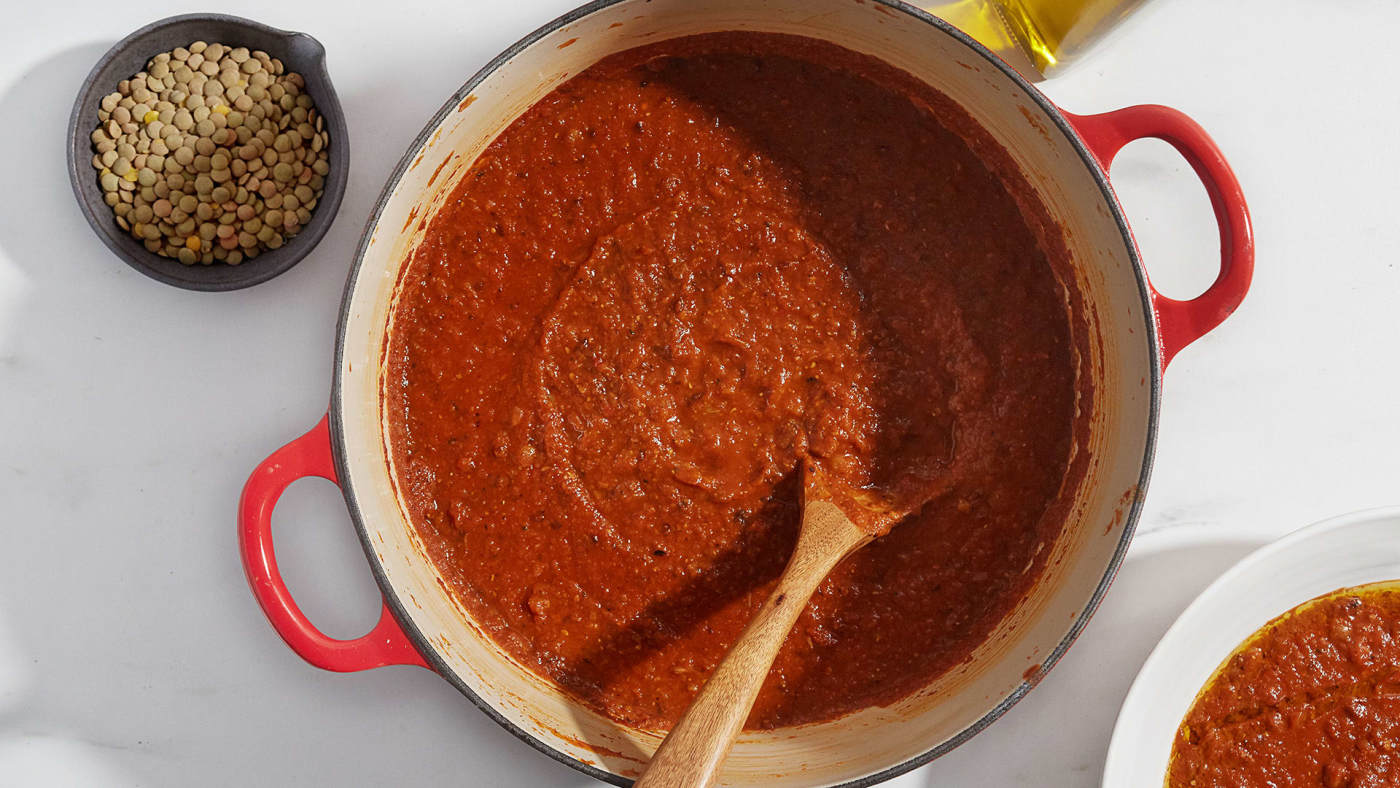 Tomato Soup with Spanish Lentils
Prep Time:
15 min
Cook Time:
1½ hours
About This Recipe
I never liked tomato soup as a kid; maybe because the only version I had was from a can. But when I started working at a restaurant after graduating from culinary school, our chef made this gorgeous soup from heirloom tomatoes. It was brightened with vinegar and shallots, and he used this really rich extra-virgin olive oil. That changed the world of tomato soup for me. To give a creaminess without the dairy, I use tahini. I like soups that have some textures, so I added Spanish lentils. The lentils also turn it into a substantial meal that can work for lunch or dinner.
The Benefits
Garlic and shallots give an anti-inflammatory bump to this dish, and the lycopene-rich tomatoes offer a shot of vitamins B and E, protecting your cells from damage. Spanish lentils and hemp hearts are packed with protein, and omega-rich flaxseed makes the soup highly nutritious.
Ingredients
1/4 cup (60 ml) extra-virgin olive oil
Cloves from 3 to 4 garlic head
6 shallots, thinly sliced
2¼ tsp salt
3/4 cup (150 g) Spanish Pardina (brown) lentils
2½ (28 oz / 794 g) cans of whole tomatoes, drained
1/2 cup (113 g) Vegan Soubise (see link below for recipe)
1/2 cup (70 g) golden raisins
2½ Tbsp (25 g) hemp hearts
2½ Tbsp (25 g) flaxseed
1½ Tbsp (22 ml) tahini
1 Tbsp (7 g) ground coriander, toasted
3/4 Tbsp sherry wine vinegar
Directions
Step 1

Make the garlic oil: Put the olive oil and garlic cloves in a heavy-bottomed pot over low to medium heat; roast the garlic cloves, stirring occasionally, until they are golden brown and tender, about 20 minutes. Remove the garlic from the pot and set aside.

Step 2

In the same pot over medium heat, using all that garlicky oil, add the sliced shallots and ¼ tsp of the salt, and cook until the shallots are caramelized and soft, about 10 minutes.

Step 3

While the shallots are cooking, in a medium pot, bring 2 cups (480 ml) of water, the lentils, and 1 tsp of the salt to a simmer. Cook the lentils until they are halfway done, 10 to 15 minutes. Strain the lentils and reserve the cooking liquid.

Step 4

When the shallots are caramelized, add the tomatoes, soubise, raisins, hemp hearts, flaxseed, tahini, coriander, the remaining 1 tsp of salt, and the roasted garlic to the pot. Simmer for 10 minutes. Let it cook down a bit, and then transfer to a blender (or use an immersion blender) and purèe for 3 to 4 minutes, scraping down the sides of the blender several times to make sure all the ingredients get fully incorporated.

Step 5

Wipe out the pot and add the blended soup back into the same pot, along with the lentils and the reserved cooking liquid. Simmer over low heat until the lentils are tender, 20 to 30 minutes. You might need to add 1 to 3 cups (240 to 720 ml) of water at this point if it is too thick (it should be a hearty soup consistency).

Step 6

Season with the sherry wine vinegar and more salt. Serve immediately. Store leftovers in an airtight container in the refrigerator for 3 to 5 days, or freeze for up to 3 months.