Sweet Potato & Black Chickpea Salad
Prep Time:
15 min
Cook Time:
15 min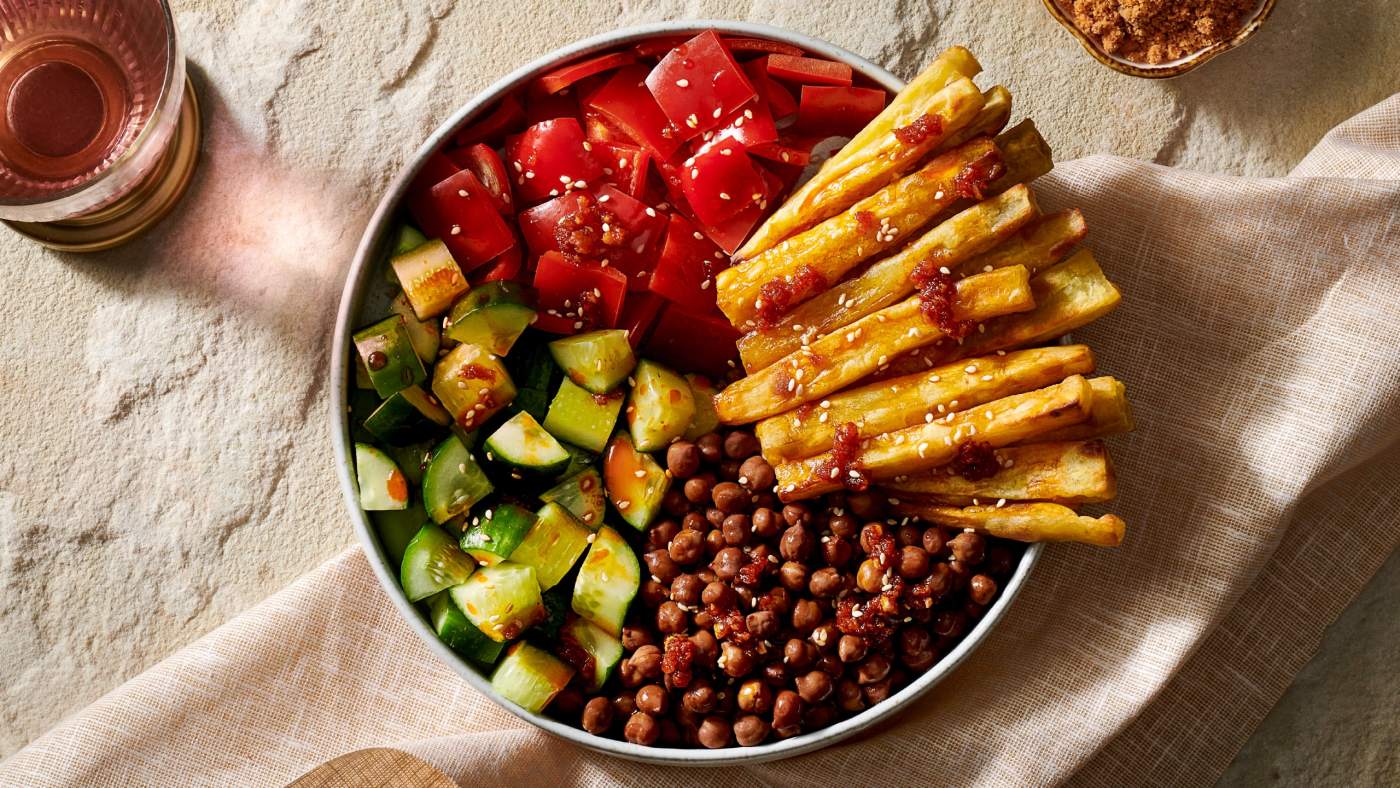 Sweet Potato & Black Chickpea Salad
Prep Time:
15 min
Cook Time:
15 min
About This Recipe
Eating seasonal is a great way to celebrate change. Come winter, my garden yields lots of sweet potatoes, which are roasted and spiced to make a popular snack in India's colder months. This hearty salad is a meal in itself, with fiber-rich sweet potato and kala chana (black chickpeas) for a protein punch. The dressing is a tangy, spicy peanut, garlic, and tamarind chutney from Karnataka in South India.
The Benefits
Black chickpeas are fiber-rich and a great source of protein, B vitamins, manganese, and phosphorus, which help support the immune system. Antioxidant-rich sweet potatoes are high in soluble fiber, which is important for the growth of good gut bacteria and a healthy metabolism. And according to Ayurveda, peanut oil can aid digestion.
Ingredients
For the Salad
½ cup (100 g) dried kala chana (black chickpeas), soaked overnight
2 cups of water
½ tsp salt
2 medium (250 g) sweet potatoes
2 tsp cold-pressed peanut oil
Salt
2 (200 g) cucumbers
1 medium (300 g) red bell pepper
For the Dressing
3 Tbsp (45 ml) cold-pressed peanut oil
1½ (15 g) Tbsp powdered jaggery or coconut sugar
1½ tsp red chile powder
3 tsp tamarind paste
6 garlic cloves
1 tsp rock salt
For the Garnish
1 tsp toasted white sesame seeds
Directions
Step 1

Cook the black chickpeas: Soak the dry chickpeas for 8 hours or overnight. Drain the soaked black chickpeas and add them to the pressure cooker. Pour in 2 cups of water, just enough to cover the chickpeas, add ½ tsp salt, and seal the lid. Cook on high heat for about 5 minutes or until the first whistle, then turn the heat to low and continue to cook for 15 minutes. Turn off the heat and wait for 5 minutes for the pressure to subside. Using a spoon or a kitchen towel, lift the whistle to release any remaining pressure. Open the pressure cooker, drain the chickpeas, and set aside to cool.

Step 2

Roast the sweet potatoes: Heat the oven to 375°F (190°C). Wash and thoroughly scrub the sweet potatoes, pat dry, and cut into thick, 6-inch-long batons. Spread the sweet potato sticks on a baking tray, brush with the peanut oil, season with salt, and bake for 10 to 12 minutes or until they can be cut into with a fork. Bring the tray out and allow to cool.

Step 3

Cut the cucumbers and bell peppers into a large dice.

Step 4

To make the dressing: In a blender, add the peanut oil, powdered jaggery, red chile powder, tamarind paste, garlic cloves, and rock salt. Blend until thick and creamy.

Step 5

In a large bowl, arrange the black chickpeas, roasted sweet potato, cucumber, and bell pepper. Pour the dressing over the salad, garnish with sesame seeds, and serve.
Substitutions: You can swap peanut oil with extra virgin olive oil. Feel free to use any colorful pepper, yellow, red, or green.
Level Up: Add cooked millet or brown rice to the salad for a meal that will keep you going all day.