Mixed Berry Cobbler
Prep Time:
10 min
Cook Time:
45 min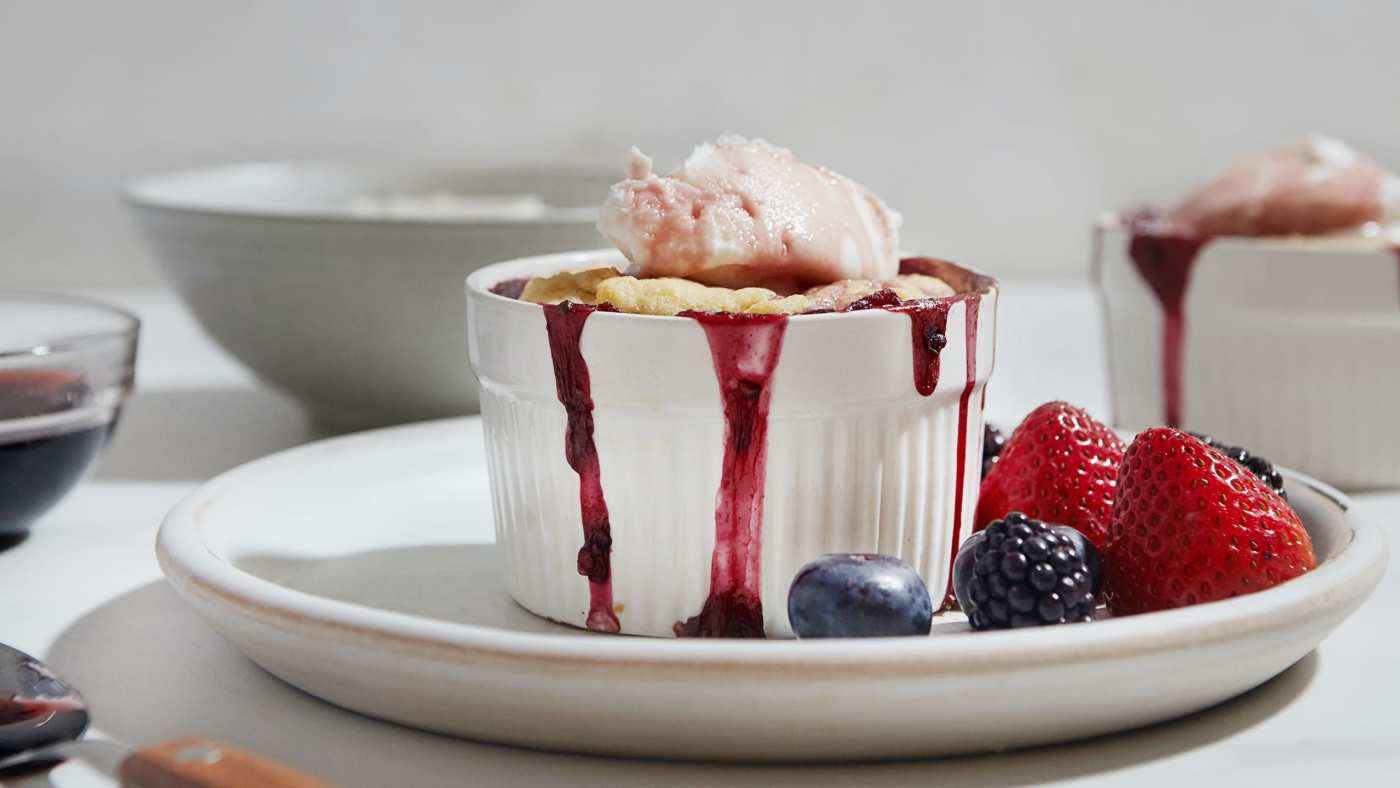 Mixed Berry Cobbler
Prep Time:
10 min
Cook Time:
45 min
About This Recipe
This berry cobbler with pomegranate syrup is something that has always been around within my family. It's a very traditional Southern recipe, and another way to impress your guests. This is a great way to make use of any fruit in your fridge; you can also use frozen fruit as well.
The Benefits
: While the berries in this recipe are rich in antioxidants, the wholistic benefits of this cobbler go beyond its nutritional profile. A homemade, fruit-filled dessert can be a powerful memory aid, calling up feelings of warmth, love, comfort and wellbeing, which all contribute to an improved mood and can reduce stress. Additionally, this recipe is completely vegan, so it's perfect for those with lactose intolerance.

Note: This recipe can easily be doubled for a party of 8.
Ingredients
Pomegranate Reduction
1/2 cup

(120 ml)

pomegranate juice

1⁄4 cup

(60 ml)

maple syrup

1½ Tbsp

(22 ml)

water
Cobbler
1½ cups

(205 g)

blueberries

1 cup

(180 g)

blackberries

1½ cups

(240 g)

strawberries, halved if large

2 Tbsp

(23 g)

maple sugar crystals

1/2 Tbsp

lemon juice

1 Tbsp

(15 ml)

water

1/4 cup

(30 g)

cornstarch

1/2 Tbsp

cinnamon

1 cup

(125 g)

00 flour

1 tsp

baking powder

Pinch of salt

1 cup

(225 g)

vegan soy-free butter (such as Earth Balance)

1/4 cup

(60 ml)

almond milk

Vegan ice cream (such as Oatly) for serving
Directions
Step 1

Make the pomegranate reduction: Put the pomegranate juice, maple syrup, and water in a saucepan over medium heat. Bring to a boil then reduce to a simmer. Simmer until the sauce is reduced by about one third, about 15 minutes. Remove from the heat and set aside.

Step 2

Heat the oven to 350°F/180°C

Step 3

Put the blueberries, blackberries, and strawberries in a medium-size pot over low heat. Add the maple crystals, lemon juice, water, cornstarch, and cinnamon and cook until the mixture is incorporated and jammy (but don't overcook), 7 to 10 minutes.

Step 4

In a mixing bowl, combine the flour, baking powder, salt, butter, and almond milk with your hands or a spatula to form a dough; it should feel like a smooth batter/dough. Set aside, covered.

Step 5

Fill small oven-proof ramekins with the berry mixture. Break off a piece of dough and stretch it over the berry mixture just so it barely reaches the edges of the ramekin; repeat for all of the ramekins. Put the ramekins on a baking sheet. Bake until the tops are golden brown and the fruit bubbles up around the edges of the dough, about 30 minutes. Remove from the oven and top with a scoop of vegan ice cream and a drizzle of the pomegranate reduction. Serve immediately.