DIALOGUE: Emily Weeks
Article
4 mins
Healthy Eating
The nutritionist and wellness expert on learning to cook mushrooms as a little girl, the warmth of green tea, and why fruit make for healthy desserts.
Inflammation is a protective mechanism that helps the body fight harmful stimuli. In the case of chronic inflammation, the body attacks its own healthy tissues with the overproduction of free radicals. This can lead to the development of diseases like rheumatoid arthritis, heart disease, and even cancer. Foods that contain antioxidants can lessen the production of excessive free radicals, thus reducing inflammation in the body.
Emily Weeks, RDN and nutrition and culinary communications expert, says cooking with fresh and whole foods can be the foremost way to battle inflammation. Her The Everything Easy Anti-Inflammatory Cookbook includes 200 recipes to naturally reduce the risk of heart disease, diabetes, arthritis, dementia, and other inflammatory diseases and conditions.

An award-winning nutritionist and the creator of Zen & Spice, a food and wellness website, Weeks is a certified intuitive eating counsellor and author of Kindred Table: Intuitive Eating for Families. Her second cookbook on anti-inflammatory food offers predominantly plant-based global recipes, featuring ingredients with antioxidant and anti-inflammatory properties.
A Texas native, Weeks credits her passion for cooking to growing up with parents who made healthy home meals a family ritual. She recalls a regular early habit hanging around the kitchen. Since she was eight, her grandmother or parents would often involve her in the process and have her sauté mushrooms or dip her fingers in dough to make cookies. Her parents introduced a variety of foods and encouraged their three children to try new things, which set the foundation for her continued interest in food.
Alongside cooking, a high school job in a supplement store got Weeks attracted to nutrition. Her many conversations with customers and reading promotional material lying around the store led her to learn more about nutrition and healthy eating. She pursued her interest and graduated college with an honors in nutrition, followed by a dietetic internship and beginning work as a Registered Dietitian Nutritionist in Texas. Her two cookbooks both seek to place food firmly in the midst of wellbeing and health.
In The Everything Easy Anti-Inflammatory Cookbook, Weeks lists the various autoimmune diseases that can flare up with chronic inflammation. She says cooking with fresh, seasonal ingredients and a variety of foods is a proactive way to combat inflammation. She recommends embracing "an anti-inflammatory lifestyle" which includes the right kinds of antioxidant foods and fluids, exercise, and sleep.
Weeks pledges to help others nourish and care for themselves with food. She recommends, "Be comfortable in the kitchen and embrace mindfulness" to develop a healthy relationship with food, mind, and body. Her books tell us how we can do it while cooking delicious and nutritious food.
Roundglass Food: What is the healing part played by food in reducing inflammation?
Emily Weeks: Chronic inflammation creates an environment that fosters free radical production — unstable electrons that wreak havoc on our cells and DNA. When free radical production exceeds our body's natural ability to stop their production, that's when damage occurs. Foods that contain antioxidants halt the production of excessive free radicals, thus reducing inflammation in the body.
RG: If you were to build a plate for your dinner guests that would be delicious and anti-inflammatory, what would it be?
EW: We'd start out with Sicilian Eggplant Caponata, which is a traditional Italian dish made of eggplant stewed with tomato sauce and spices. It's delicious served on top of crusty French bread. Main course would be my Creamy Avocado Fettuccine with a side of roasted broccoli. Dessert would be a little cup of Quick Apple Crisp.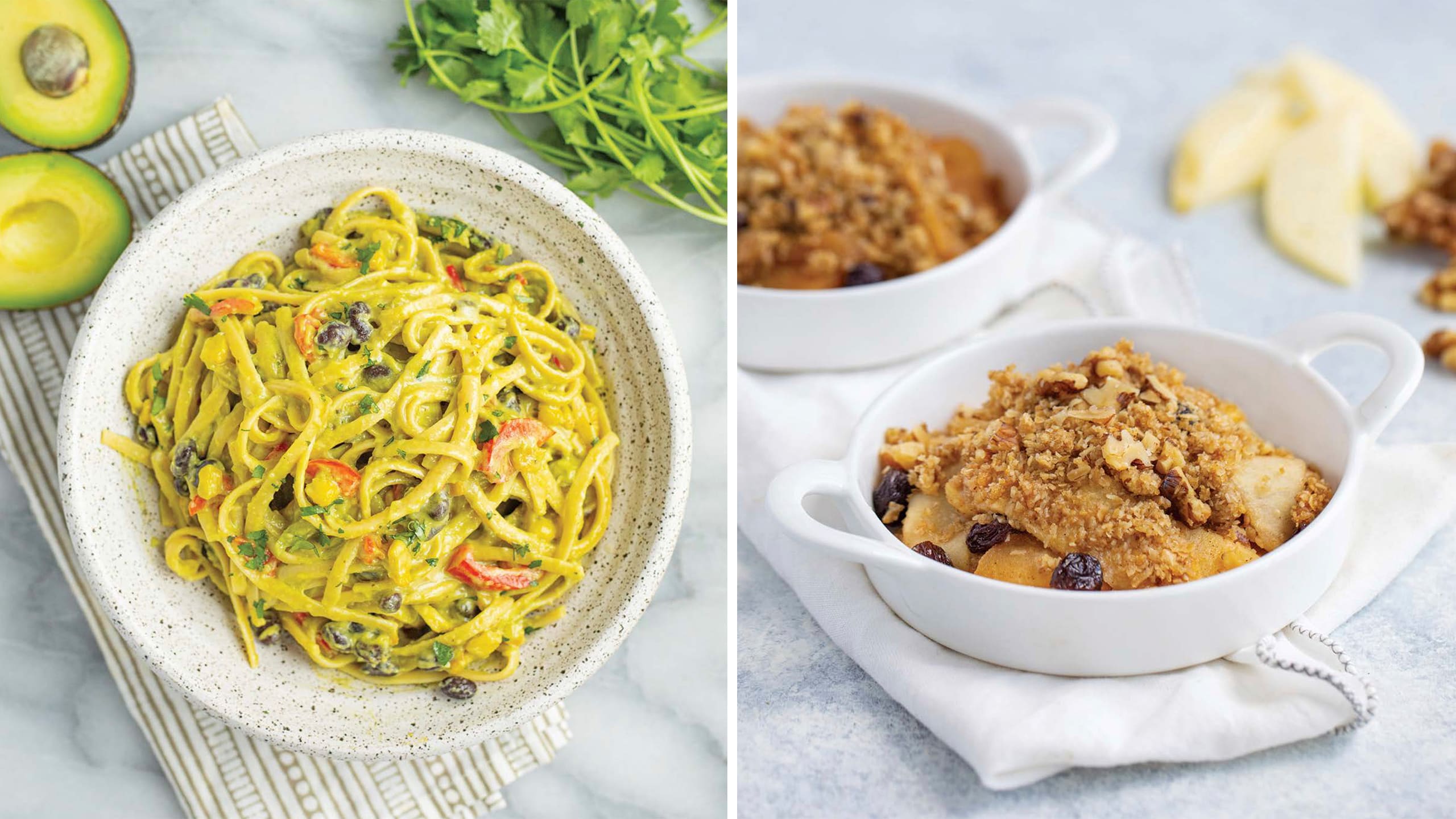 Creamy avocado fettucine and quick apple crisp (pics courtesy: Emily Weeks)

RG: What is an enduring food memory you have growing up that has drawn you towards nutrition and healthy cooking?
EW: I used to help my mom cook dinner quite frequently. She'd always put me in charge of sauteing veggies, including my fav, mushrooms, and spinach. Learning to cook and enjoy veggies from a young age instilled a love for healthy eating.
RG: What's an herb (or elixir, or fruit, or tea) that you associate with healing inflammation?
EW: Green tea is wonderful for reducing inflammation in the body. Its main ingredient, EGCG (epigallocatechin-3-gallate) is known to reduce inflammation.
RG: How is food a part of your own wellness practice?
EW: I gravitate towards eating lots of vegetables, particularly leafy greens. I also eat quite a bit of protein, which I try to get from plant-based sources such as tofu, tempeh, beans, etc. When I do eat meat, I eat small portions of chicken and fish. Fresh fruit makes a delicious dessert with anti-inflammatory effects.
DIALOGUE is an ongoing series of conversations about food & wellbeing.
The Benefits
Increase antioxidants in our bodies which fight inflammation
Decrease the chance of diseases like diabetes and arthritis
Protect and heal the body.