DIALOGUE: Dr Rupy Aujla
Article
9 mins
Healthy Eating
The London-based physician on the impact of behavioral psychology on eating habits, Ayurveda's relevance to nutritional wellbeing, and the treats he would whip for Drake and Diplo.
Dr. Rupy Aujla, popular London-based doctor specializing in general practice and emergency medicine, is on a mission to reverse preventable lifestyle diseases "one plate of delicious food at a time."
In the last decade, Aujla has worked with health professionals, nutritionists, chefs, and home cooks to realize how nutritional medicine can help achieve optimal wellness through the right food choices. His bestselling cookbooks like the latest, Dr Rupy Cooks, have leveraged his qualifications as a physician and nutritionist to invite people to cook from a global pantry to relish diverse foods with a variety of health benefits.
To that effect The Doctor's Kitchen is an engaging platform that presents Aujla in his avatar as doctor-chef who combines his cooking skills with the science of medicine. He cheerfully explains the nutritional value of ingredients as well as smart techniques to get the best results from your home kitchen. He cannot stress enough that for a holistic approach to good health terms like "delicious" rank higher than "diet."
Aujla's prescription is simple: Cooking healthy food is the first step to wellness. The doctor is in... your kitchen.
Roundglass Food: What role does behavioral psychology play in cooking and eating healthy food?
Dr Rupy Aujla: We can't rely on willpower alone to want to eat green vegetables, legumes, and fruit just because we know they're "good for us." That's not how it works.
There is an assumption that if people understand the health benefits of food or other lifestyle behaviors, they naturally align themselves to these choices.
But behavioral psychology tells us otherwise. Despite our best intentions, most of us instinctively prioritize tastiness over healthiness when choosing what to eat, especially when time-poor and lacking in sleep.
If we create anticipation by describing food or drink as pleasurable, there is heightened activity in the medial orbital frontal cortex, the pleasure center of the brain. Studies have demonstrated that describing food according to its health attributes, such as calorie count or cholesterol benefits, is less likely to create a habit of eating well compared to describing how tasty, exciting, and delicious the food is.
To create a healthy eating habit, whereby the choice of foods that serve the function of your body becomes subjectively desirable and automatic, we must strive to make this a positive experience. And that's why this book is about, healthy, easy, flavorful meals that focus on the enjoyment of food rather than just the benefits alone.
RG: What is the role of food and nutrition in your cooking?
RA: Food is not just one of the most significant health and wellbeing interventions, it's also one of the most important sources of pleasure. It's glorious, comforting, enticing, and rewarding. Eating and sharing food is one of the most enjoyable aspects of life — something I don't want anyone to forget.
Ingredients can take your palate on a vibrant adventure. With color, texture, and flavor, my recipes teach you how healthy eating can be accessible and delicious. Regardless of what cuisine you prefer, each dish is filling and good for you.
RG: What tips do you recommend for achieving consistency regarding food and nutritional wellbeing?
RA: I think forcing ourselves to rigidly stick to a list of foods that are labelled "good" or "bad" will never reflect the intricacies of our requirements. As long as you feel healthy, your diet fits into your lifestyle, and it doesn't lead to a nutritional deficiency or personal risk of disease, you're doing a great job.
Most people get caught up with what they "should" or "ought" to be doing rather than remembering that food should be enjoyed and appreciated.
Rather than jumping on a diet and following an extreme, try the basics first. Eat largely plants, ensure you get fiber, lots of colors, quality fats, and eat mostly whole foods that aren't processed or have tons of sugar added to them.
There are endless ways in which to add nutrient-dense foods to your diet daily and I want to encourage people to think along these lines:
• Eat colorful foods: Two different vegetables at every mealtime, as many different colors as possible and variation is key.
• Focus on plant protein: Plant proteins offer the best of both worlds: nutrient density, phytochemicals, and more than adequate quantities of both fiber and protein.
• Don't forget fiber: Fiber is key to longevity, gut microbe functioning, and therefore general health.
• Don't fear fats: They are vital for your body's physical and mental function.
• Define your hours of eating: A general rule is not to eat late in the day. Try to stick to eating within a 10 to 11-hour window and eat at regular times each day.
• Remove refined food from your diet: Eat whole foods as much as possible. Whole food is the most health promoting option.
RG: What traditional food wisdom from Ayurveda, Washoku, or Mediterranean do you find relevant today?
RA: All of them! The silk road is a 2,000-year-old trading route that connected China with the Mediterranean Sea. This formed the basis of 21 Mediterranean and 47 Asian countries creating a collection of 68 culinary cultures to choose from.
The spices, use of plants, pulses, whole grain staples, and fats are transformed into rich culinary identities and have health properties at the core of them. Spices are rich in bioactives that support inflammation, and you'll find them used in multiple cuisines whether it's oregano, clove, or Sichuan pepper.
Pulses have always formed the basis for many different populations, including white beans in Greece and cannellini in Italy or soybean and lentils in Asia. There is a rich history of using food as medicine in the traditions of many cultures and you'll find it embedded in the DNA of many recipes from the past.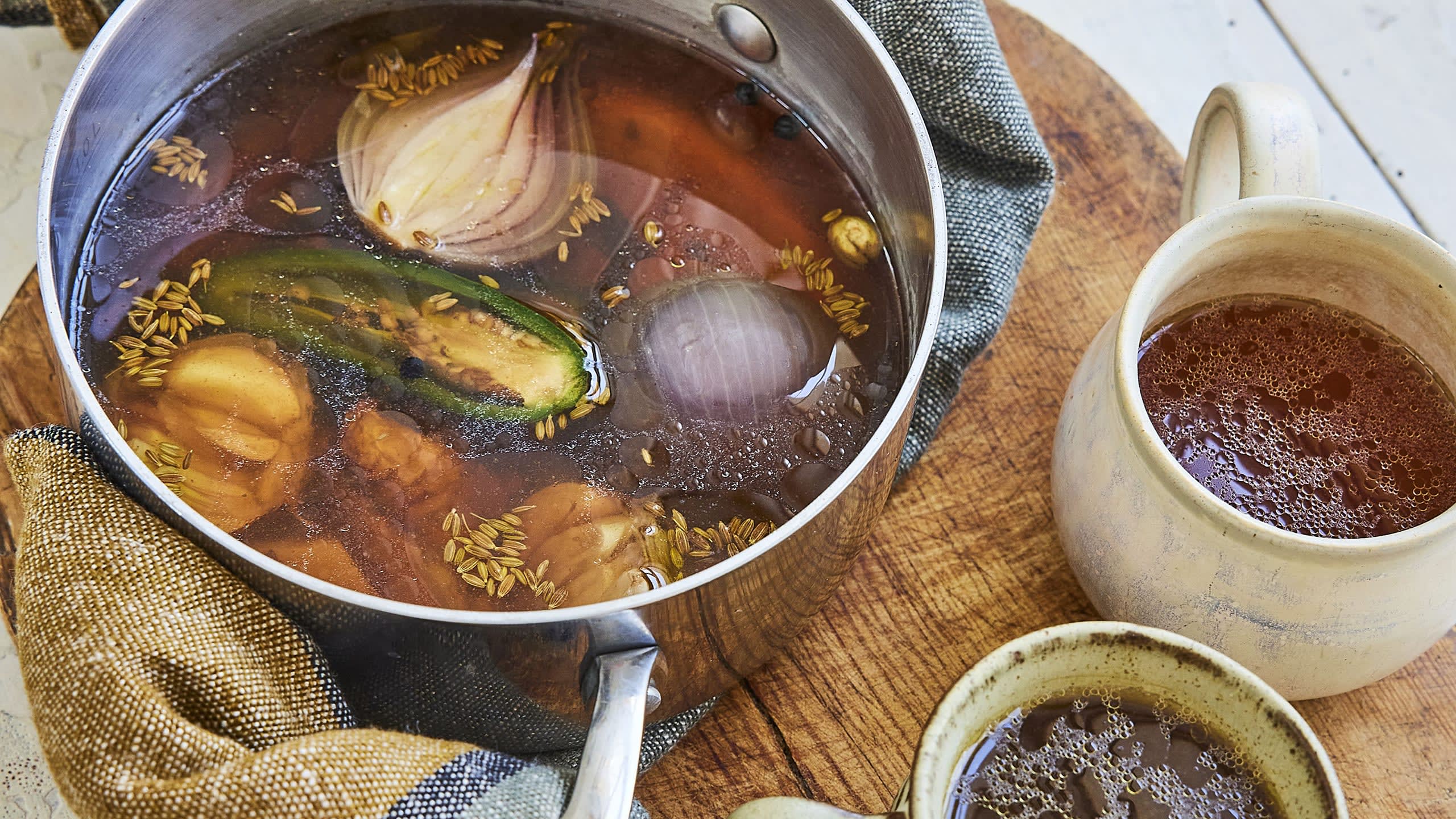 Dr Rupy's sipping broth (Courtesy: Dr Rupy Cooks)
RG: How has your Indian culinary heritage contributed to your practice of nutritional food?
RA: One of the major influencers is the Ayurvedic diet. This is pretty much what I grew up with. So, it's a real good collection of largely plants, lots of whole foods, colorful spices, so there's definitely some diversity in there, and it's high fiber. It's super enjoyable and it's got quality fat in, it pretty much meets the principles of healthy eating. An Ayurvedic diet is quite simply a whole food unprocessed diet. It's one that, you know, my parents are obviously massive fans of.
The diversity of ingredients, the use of spices, the use of pulses and lentils, the use of good quality fats are really good signs. We used to demonize fats, but good quality fats are super important. And the quality of your diet really comes down to those principles. And that's pretty much it.
But it doesn't necessarily need to be Indian-flavored or the typical dishes that you'd find on an Ayurvedic table. It can be African inspired, it can be Creole cuisine, it could be American, dare I say, it could be British. And that's why my recipes really do — skip through all these different cultures and flavors because it doesn't need to ascribe, it doesn't need to stick to a particular flavor or cuisine. Every cuisine can be super healthy.
RG: What handy tips would you share for people to practice healthy cooking habits in the kitchen?
RA: I would say planning and prepping ahead is a great tip. Batch cook some meals for the week on say a Sunday and give yourself some lovely, delicious meals which are ready when you are. All the recipes in my new book Dr Rupy Cooks have at least 3 portions of vegetables, fruit, nuts, or seeds to give you an ample dose of prebiotics, phytochemicals, protein, fibers, and other essential nutrients. You can make stews, casseroles, curries, traybakes and much more from the book and by using the same formula. A lot of the recipes use minimal dishes which minimises washing up, which for many of us is the biggest barrier for cooking.
Cutting up and freezing a selection of veg ahead of time, and having these ready to hand can save so much time with chopping — frozen veg can be so easy to incorporate into any number of dishes — stir-fry, omelette, risotto, pasta dishes.
RG: What is your favorite ingredient to cook with? Why?
RA: I'm loving freekeh at the moment. It's a type of whole wheat grain commonly found in Iranian, Israeli, and Lebanese cuisine and takes the same amount of time to cook as brown rice. It has a firm slightly chewy texture and is packed with flavor. I pair it with chickpeas, lemon, sumac, olives, oregano, and molasses.
RG: If you could invite anyone over for dinner, who would you call and what would you serve them?
RA: Wow, I haven't really thought about this one.
I would have a mixture of comedians and chefs. I'd have Jamie Oliver, James Acaster, and Ed Gamble from Off Menu. I would have a musician, someone like Drake. I would have a techno artist like Diplo. I would have a Japanese sushi master from Jiro Dreams of Sushi. I would have Chris Bianco from Pizzeria Bianco in Phoenix, Arizona, I think he'd be really interesting.
I would have David Chang, head chef of Momofuko and I would have the American Korean chef Roy Choi from the Korean food truck in LA, he's really cool. And Yotam Ottolenghi.
Entertaining is a wonderful way to see your friends and families . I've done a whole section on healthy feasts at the back of the book. They're feast recipes that you can put together in less than 90 minutes, serve six people, and there are a variety of feasts. So, there's a vegan one, there's a Mediterranean-style feast, there's a Middle Eastern-style feast, and there's an explorative one with Korean-style cuisine.
I would keep it really simple. Have a central dish, and some wonderful side dishes that you can make ahead, like little salads that have pops of flavor. In the Middle Eastern one, for example, I just have simple harissa, roasted aubergine/eggplant that's on the side. And you have your central dish, your sardines that I roasted in Zaatar. And then a simple hummus that you can make yourself with tin chickpeas.
RG: What's a heritage cookware or kitchen tool that's precious to you and why?
RA: My mum's rolling pin and thava. It's a hot plate we use to make rotis on. No explanation needed!
DIALOGUE is an ongoing series of conversations about food & wellbeing.
The Benefits
Cooking with the right ingredients as preventive medicine
The role of behavioral psychology in making the right food choices
How taste and flavor must form the basis for healthy eating